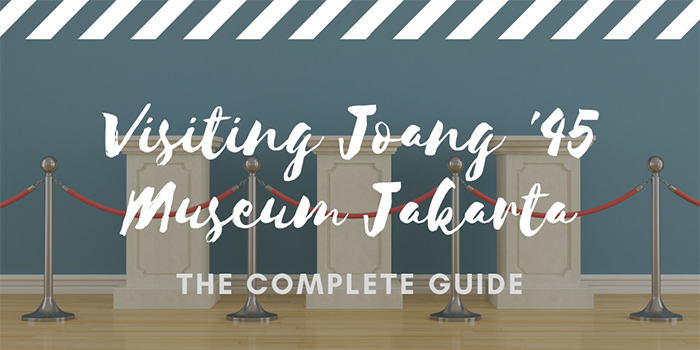 Joang '45 Museum is one of the huge collection of museums to see in Jakarta. A Joang '45 Museum visit is perfect for visitors who would like to learn more about Indonesian history and the country's struggle for independence.
Inside, you will see a collection of war relics, photographs, and other things that are connected to the Indonesian independence movement and struggle.
Joang '45 Museum is often referred to by a few other names such as Museum Joang '45 (in Bahasa Indonesia) which translates to 1945 Struggle for Freedom Museum (in English).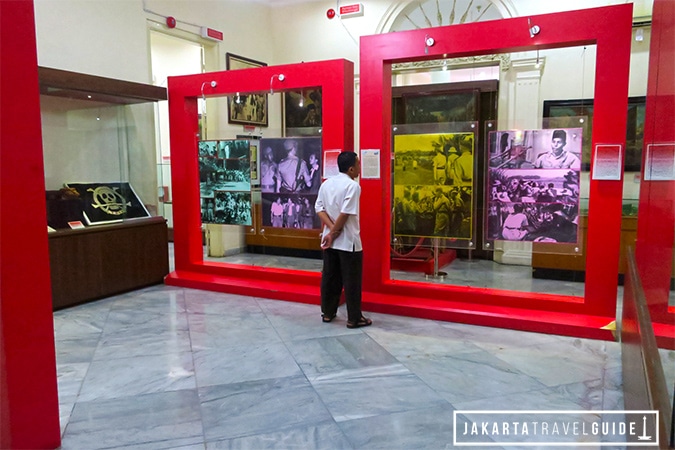 Joang '45 Museum Attraction Overview
Joang '45 Museum is located in Menteng Central Jakarta. If you are not familiar, Menteng is one of Jakarta's wealthiest areas, known for colonial mansions and tree-lined roads.
This museum is situated inside Gedung Menteng 31 – a colonial building that was once used as a hotel for Dutch high officials and then later as a boarding house and an education center for Indonesian youth to learn more about nationalism.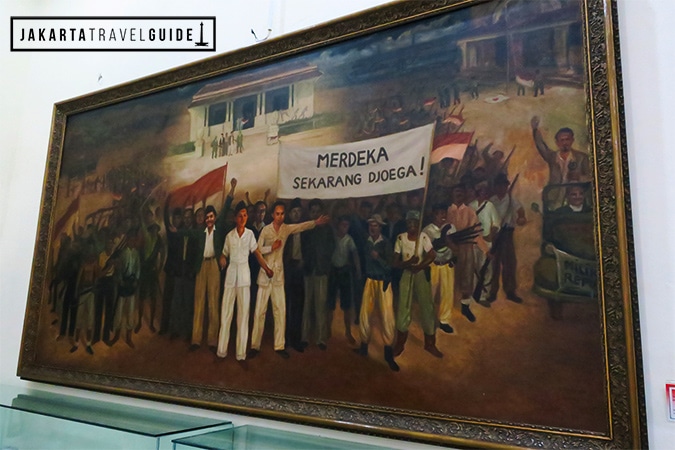 In 1974, after a renovation, Joang '45 Museum was officially opened to the public. This building is a fitting place for the museum because of the influential learning that occurred there as Indonesia sought for Independence.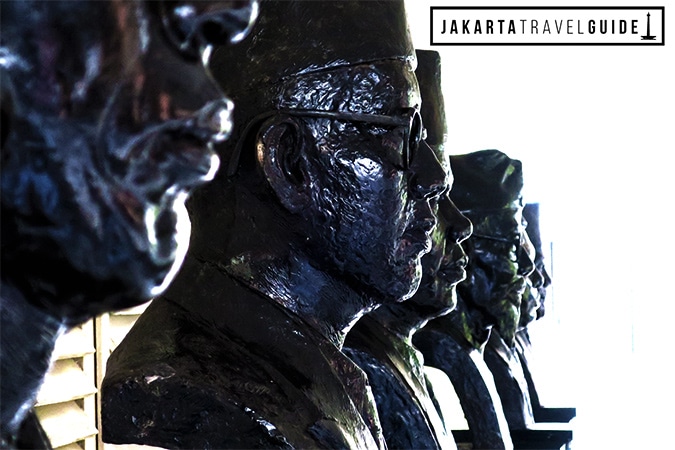 ---
What To Expect When Visiting Joang '45 Museum Jakarta
When you arrive at Joang '45 Museum you will notice a small building to the south of the actual main museum building. This is where you can purchase a ticket to enter the museum.
The exhibits within Joang '45 Museum mainly consist of pictures, posters and letters about Indonesia's movement towards independence. If you are a historian you will find this museum quite interesting.
The main building of Joang '45 Museum isn't particularly large in comparison to other museums in Jakarta such as the National Museum, but it does provide a pretty thorough overview of the struggles the nation went through to become independent of colonial rule.
DO keep in mind that many of the displays are only described in Bahasa Indonesia, therefore if you don't speak the local language, a guide could come in handy.
How Much Time Do You to Visit Joang '45 Museum Jakarta
For most visitors to Joang '45 Museum, 30-40 minutes is sufficient time for a visit.
Joang '45 Museum Jakarta Opening Times
Tuesdays to Sundays: 9 am to 3 pm . The museum is closed on Mondays. 
Entrance Fee: 5000 Rupiah per person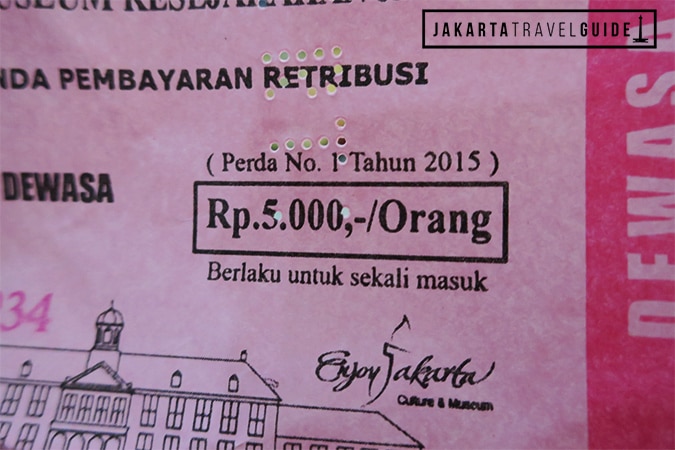 ---
Visiting Joang '45 Museum Insider Tip
Don't forget to check out the interesting cars that are located at the back of Joang '45 Museum. As you proceed through the museum you will eventually exit through the back door.  Don't leave right away!
Instead, walk over to check out the three cars that are located to the southeast of the museum exit. Each one has a descriptor about the car's history. This is a nice little added bonus when you are checking out Joang '45 Museum in Jakarta.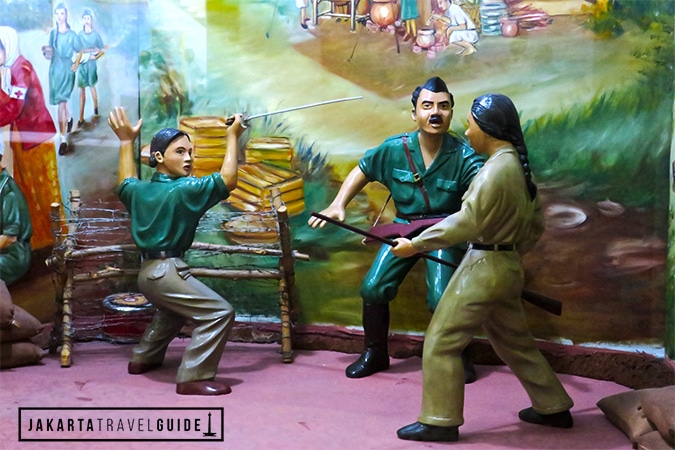 ---
What's Around Joang '45 Museum Jakarta
Joang '45 Museum is one of the best-located museums in Jakarta.
It's conveniently located in central Jakarta, which makes it very easy to incorporate into your sightseeing itinerary during your Jakarta visit.
Menteng, the area of Jakarta where Joang '45 Museum is located, is known for a few things such as Dutch colonial buildings, tree-lined roads and plenty of museums. It also one of the best areas of Jakarta to stay if you are visiting with children because this area actually has sidewalks, unlike many areas of Jakarta.
If you decide to visit Joang '45 Museum then you will be within walking distance of Tugu Tani – one of Jakarta's most famous monuments.
Tugu Tani is located only about 500 meters (5-minute walk) north of Joang '45 Museum. You can easily walk between the two.
As you walk from Joang '45 Museum to Tugu Tani you will bypass one of the best hotels in this area – Fraser's Residence Menteng. It receives very positive reviews from guests.
Once you arrive at Tugu Tani you will see another hotel located 100 meters to the north called Aryaduta Jakarta. Similar, to Fraser's, Aryaduta receives good review scores from verified guests as well, but it is quite a bit older than Aryaduta.
A few other points of interest near Joang '45 Museum include LCBI Heritage Museum (a colonial building), Taman Gunung Agung (a rectangular shaped public park), Museum Kebangkitan Nasional (National Museum of Awakening) and Plaza Atrium.
Since Joang '45 Museum is also relatively close to the Monas, you might also want to check out the National Gallery, Jakarta Cathedral, Masjid Istiqlal and Pasar Baru.
Gambir Station is also close to Joang '45 Museum. It services intercity trains to Badung and other destinations in Java. If you want local markets head to Pasar Senen which is located around Pasar Senen Station.
---
10 Closest Hotels to Joang '45 Museum in Jakarta
***Organized according to Star Rating