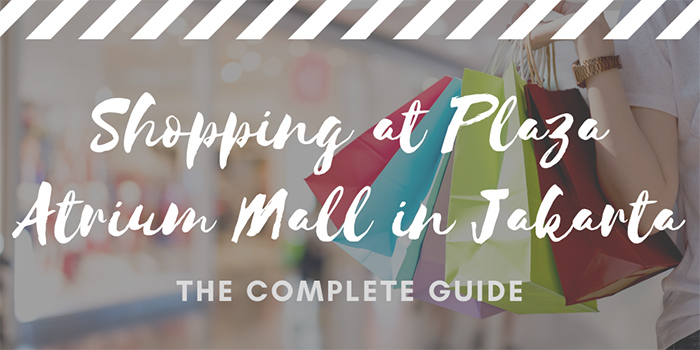 The complete guide to Plaza Atrium in Central Jakarta.
Plaza Atrium is a shopping mall that is located in central Jakarta, only approximately 2 km east of the Monas – Indonesia's National Monument.
If you visit Plaza Atrium in central Jakarta, it is one of the closest shopping malls to the museum district that surrounds the Monas. It is conveniently located for visitors who are staying at a hotel in the city center.
Plaza Atrium is by no means Jakarta's largest or newest shopping center, but it does have a wide selection of affordable stores. It is popular with local shoppers, and this is especially true on weekends.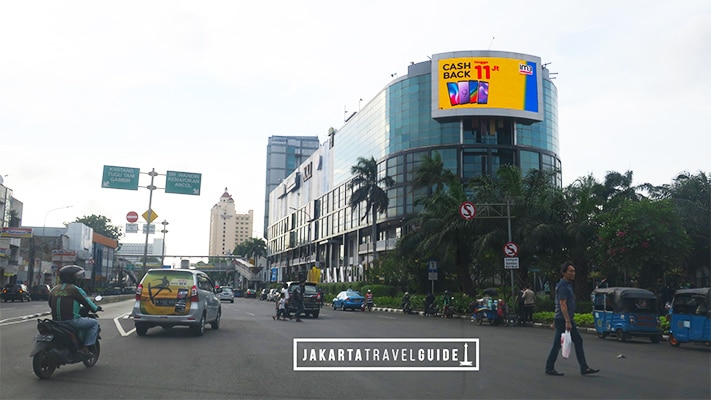 Unlike some of the other major malls in central Jakarta such as Grand Indonesia and Plaza Indonesia, Plaza Atrium has more local brands opposed to international chains. This results in an affordable shopping experience for Indonesians living near the mall. Consequently, Plaza Atrium can get busy, especially on weekends when promotions and events are going on.
As the name suggests, Plaza Atrium has a large atrium in the center of the mall. On the ground floor of the atrium, they commonly have special promotions and events going on. Another cool feature of Plaza Atrium is the 'music stage' that they set up (typically on weekends). When a band is playing you will be able to hear the music throughout the mall because the acoustics are quite good.   
If you are thinking about shopping at Plaza Atrium then also take note that it has a cinema (4th floor), and two recreational playing areas for kids (one on the 4th floor and one on the lower ground floor). The cinema shows international and local movies. Expect there to be subtitles for local viewers if the main language of the film is English.
Most of the restaurants at Plaza Atrium are affordable in comparison to high-end malls like Pacific Place and Plaza Indonesia. Therefore, it is a good place to bring the family if you are budget-conscious.
It is free to get dropped off at Plaza Atrium. Just simply ask your driver to drop you off and pick you up at the main lobby. The main entrance area is quite small and adjacent to the road.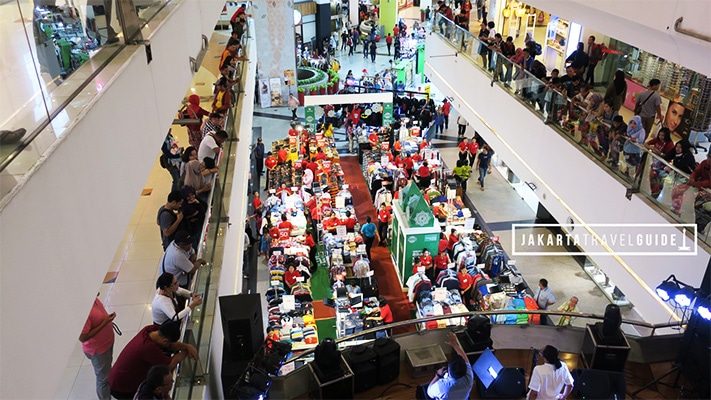 ---
Plaza Atrium Mall Essential Visitor Information
Opening Times:
Everyday : 9:30 am-9:30 pm
Address: Jl. Senen Raya No.135, RT.9/RW.2, Senen, Kota Jakarta Pusat, Daerah Khusus Ibukota Jakarta 10410
---
What is around Plaza Atrium in central Jakarta?
Museums and Markets
With Plaza Atrium being located so close to the Monas, Jakarta Cathedral, Masjid Istiqlal and all the other points of interest in central Jakarta, it is definitely located in a convenient spot for people staying at a hotel in the city center.  
Directly east of Plaza Atrium, you will find all the markets surrounding Pasar Senen Station. You can easily walk there from the mall.
West of Plaza Atrium you will find many different points of interest that you can either walk to or drive to. Some of them include:
If it is hot outside you might be better off driving from Plaza Atrium to the Monas.
Northwest of Plaza Atrium you will be able to visit a public park called Taman Lapangan Banteng and a monument called Monumen Pembebasan Irian Jaya. This park has been recently re-done and it looks great!! They sometimes have 'water-fountain shows' there on weekends.
You can also easily visit Pasar Baru if you are staying near Plaza Atrium. Pasar Baru is about a 1.5 km walk or drive north of Plaza Atrium.
Accommodation Options
Since Plaza Atrium is surrounded by so many points of interest, it is a practical decision to book a room near the mall if possible.
Most of the accommodation choices near Plaza Atrium are in the 2-4 star range. Some of the most popular choices near Plaza Atrium include:
Of these choices, Lumire Hotel and Convention Center is the most conveniently located as it is directly beside Plaza Atrium.
Hotel Borobudur is an excellent choice if you are visiting with children. It has a large outdoor area and great pool facilities. An excellent spot for outdoor workouts. It overlooks Taman Lapangan Banteng.
---
10 Closest Hotels to Plaza Atrium in Jakarta
***Organized according to Star Rating
---
Shopping at Plaza Atrium Mall in Jakarta: Summary
Plaza Atrium is a very easy mall to navigate while you're shopping.
It isn't nearly as big as some of Jakarta's famous malls like Grand Indonesia. If you are looking for affordable shirts, pants and shoes, this is a good spot. Like most large cities, things tend to be noticeably more expensive near the city center. Plaza Atrium still provides stores that offer good local prices for products and food despite its proximity to the Monas and other iconic attractions in central Jakarta.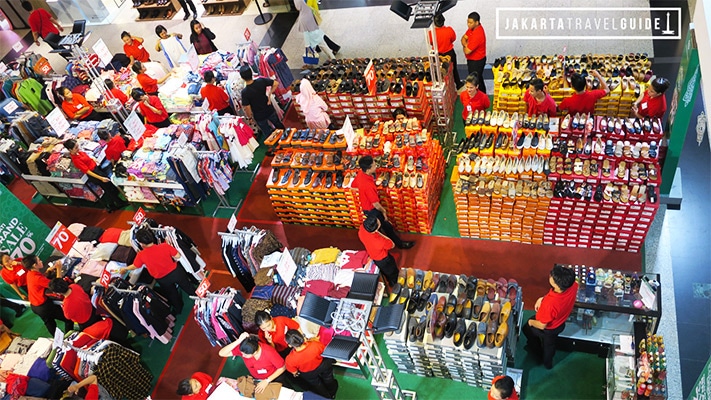 Most of the restaurants in Plaza Atrium are affordable, so it's great budget mall that is right downtown in central Jakarta. The cinema also plays international movies in English.