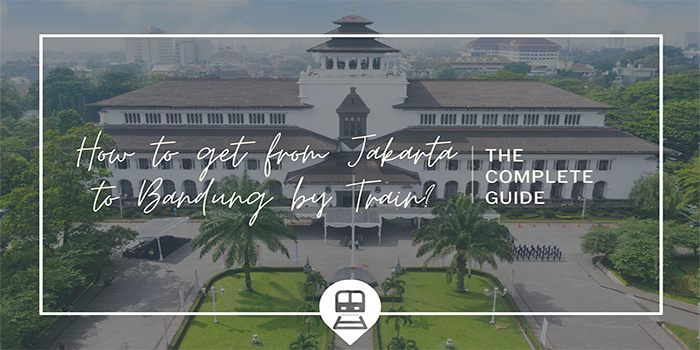 This is a step-by-step guide on how get from Jakarta to Bandung using the train from Gambir Station in central Jakarta.
Getting from Jakarta to Bandung can be a really great trip if you decide to use the train.
Bandung is one of the most popular tourist destinations for 'Jakartans'. On weekends people living in Jakarta either take the train, bus or fly to Bandung to shop, dine and see many of the beautiful landscapes surrounding the city.
It is particularly popular with people looking for bargain prices because it has a large selection of factory outlets.  Actually, it's quite common for tourists from as far Kuala Lumpur to fly to Bandung just to shop!
People in Jakarta are no different.
Bandung has plenty to see within an hour drive of the central train station.  It also has a cool nightlife scene which is focused around Braga Street (Jalan Braga).  
The temperature in Bandung is usually cooler than in Jakarta due to its elevation. Therefore, it's commonly visited for relief from the balmy weather in Jakarta.
You can travel between Jakarta and Bandung by car, bus, plane, and train. It is hard to argue with the fact that train travel is probably the most scenic and relaxing. There are many beautiful rice terraces and elevated crossings that offer breathtaking scenery.
We strongly recommend visiting Bandung if you are in Jakarta even if it's only for a few days. Gambir Station is the downtown station for accessing trains to Bandung. It is directly east of the Monas right in central Jakarta. It is very close to the National Gallery of Indonesia, Jakarta Cathedral and Istiqlal Mosque.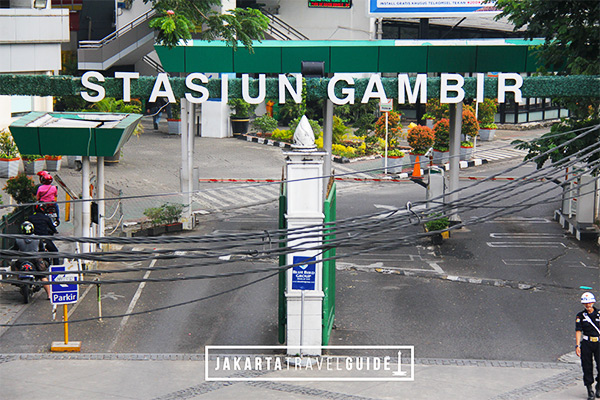 There are currently over 15 train trips from Gambir Station to Bandung every day.
Here is a step-by-step guide on how to get from Jakarta to Bandung by train from Gambir Station.
---
Step #1: Purchase your train ticket from Jakarta to Bandung online well in advance.
Purchase your train tickets online in advance for your trip from Jakarta to Bandung.  
Trains trips between these two cities have been known to sell out, especially on weekends.
It is essential to buy your tickets well in advance (2-3 months in advance) if you plan to visit Bandung on a long weekend. Lots and lots of people try to go to Bandung on long weekends. The combination of Jakartans and other tourists makes the train service very busy.
You can purchase train tickets from Jakarta to Bandung using the following websites:
Official Provider:
Secondary Providers:
Do not risk going to Gambir Station without pre-booking your train tickets online before a weekend trip or you might be disappointed. You can also buy them directly at the station if you know the train will not be sold out.
Remember to keep your reservation code handy, so that you have a smooth check-in at Gambir Station.
---
Step #2: Check out and Leave for Gambir Train Station very early.
If you plan to take the train from Jakarta to Bandung then you first must depart from your hotel/guesthouse/house to Gambir Train Station.
Gambir Train Station is located right in the heart of central Jakarta. If you know where the Monas is, then you should have no problem finding Gambir Station. It is located directly east of the Monas.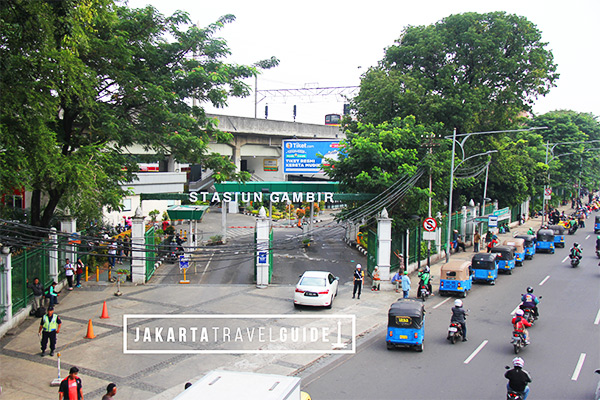 This is technically located along the Red and Blue Commuter Lines in Jakarta, but these trains bypass the station. Gambir would simply be too busy with both intercity and commuter trains departing from there. Therefore, you will have to arrange alternative transportation from your place to Gambir.  
If traffic is heavy consider using a ride-sharing app opposed to a taxi so that the meter doesn't run while in traffic. Motos are the fastest form of transport in Jakarta to get to specific spots, but you might have a hard time bringing your luggage along!
---
Jakarta Travel Guide Insider Tip
Choosing the Right Hotel Near Gambir Station
Unfortunately, MRT Jakarta does not service Gambir Station. This makes it even more important for you to book your room close to Gambir Station to avoid unnecessary time in traffic.
As you probably know already, Jakarta struggles with massive traffic jams.
***Read more about how to avoid traffic in Jakarta with this comprehensive guide.
There are quite a few hotels that are within a few kilometers of Gambir Station. Some of the best options are included below for your convenience:
Keep in mind that these properties are really close to Gambir Station, but they take a bit longer than expected to get to the station because you have to do a U-turn to access the station in a car.
***Read more about hotels in Jakarta with this accommodation guide.
---
Step #3: Check-in for your train ride for Jakarta to Bandung
Once you arrive at Gambir Train Station you can easily convert your pre-booked online ticket to a boarding pass. All you need to do is use one of the machine kiosks located within the station.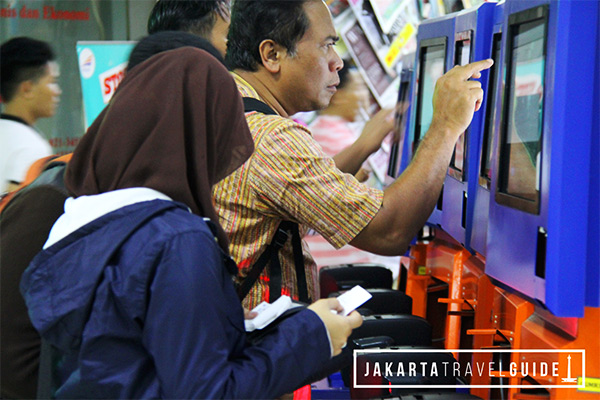 They usually have train staff that are near the machines to help you out.  
As long as the barcode on your ticket is intact then this shouldn't be an issue.  You can also purchase tickets directly at the station, but we would recommend booking them online in advance instead. This way you can get the seats you want on the dates you want.  
You will also avoid some large lines at Gambir Station if you book online in advance.
Once you have your boarding pass for your journey from Jakarta to Bandung it's now time to wait for the boarding announcement. In most cases, an announcement will be made and then you will complete a quick ID check.
Then you can head to the correct platform in the station.
Board the train heading from Jakarta to Bandung.
In some cases, they will allow you to board 30 minutes prior to the scheduled departure time.  This allows you to relax before the trip begins.
If you are traveling with children, check-in early and get to your seats early.
---
Step #4: Relax and Enjoy the Refreshments during the Train Ride
While on the train ride from Jakarta to Gambir, you can purchase drinks and snacks from the train attendants. Don't expect luxury meals on all classes of trains, but basic finger foods and drinks such as water and juice.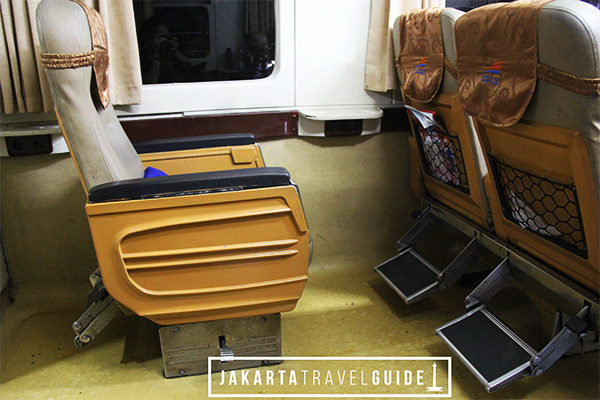 There are also washrooms available on the train that you can use.  
They also play movies at the front of each cart. So if that is something that you would like to do, book your tickets accordingly.
---
Step #5: Arranging your Transportation/Accommodation in Bandung
When you arrive at Bandung Central Station you can find a taxi directly outside the station. They are usually visible right from the main exit area of the station.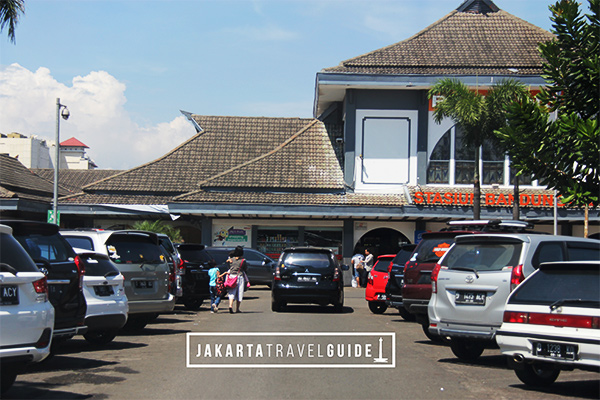 You can also use the very same ride-sharing apps that are typically used in Jakarta as well (Grab, Go-Jek)  to transport you to your booked accommodation.
There are a lot of hotels within walking distance of Bandung Station.
Hilton Bandung is one of the best properties in this area of the city.
---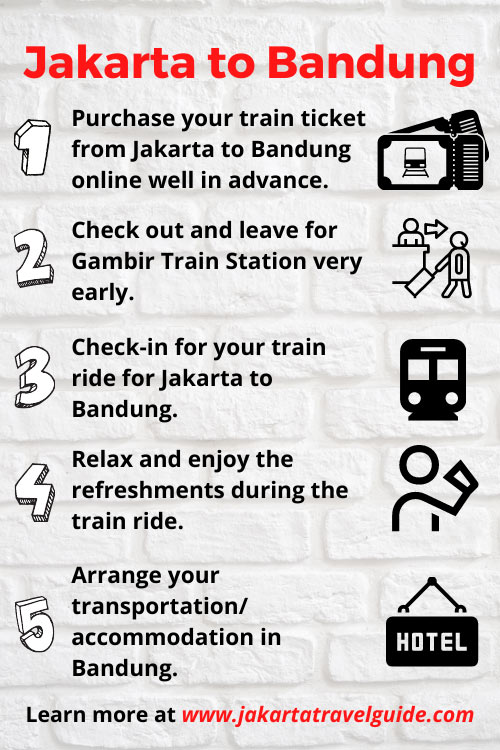 ---
$$$

How much are train tickets from Jakarta to Bandung?
Train ticket prices from Jakarta to Bandung differ depending on what class of service you want.  
There are different classes of service and different types of trains.
At the time of writing, these are the prices listed on Kereta API (https://www.kai.id).
Argo Parahyangan Economy Tickets: 90,000 IDR

Argo Parahyangan Premium Economy: 100,000 IDR

Argo Parahyangan Executive: 140,000 IDR

Argo Parahyangan Priority Executive: 30,000 IDR
Keep in mind that depending on where and when you buy your train tickets to Bandung, the prices are likely to change. But, these prices do provide you with some approximate values to plan and budget for your trip.
---
How long does it take to travel from Jakarta to Bandung using the train?
Currently, the listed times for trains from Jakarta (Gambir Station) to Bandung range from 3 hours and 9 minutes to 3 hours and 34 minutes.
When you are booking your tickets the journey times are usually listed beside the price. Therefore, you can get a clear idea of the amount of time it will take long before you step onto the train.
---
Any Questions about Getting from Jakarta to Bandung?
Although we try our best to provide the most detailed articles available, if you do have any more questions about getting from Jakarta to Bandung by train don't hesitate to send us an email.
This train ride is quite scenic so try to book it during the day to capture the beautiful views. Have a safe journey to Bandung!