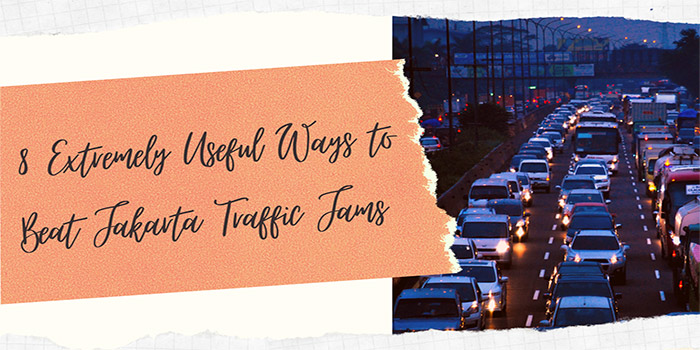 Everything you need to know about how to avoid major traffic jams in Jakarta. The Practical Guide.
When you mention the words 'Jakarta traffic', it creates instant fear in the minds of visitors planning trips to the Indonesian capital.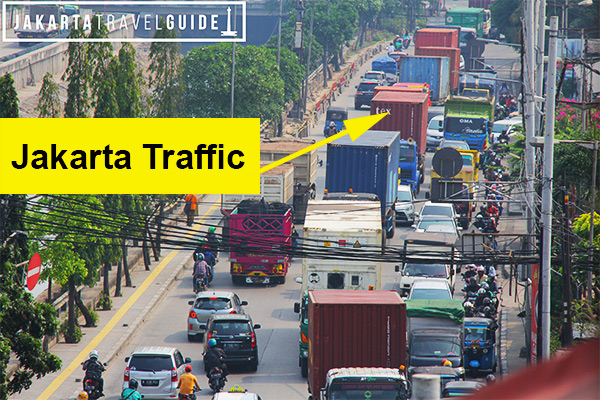 Jakarta traffic is something that people fear. But there are practical ways to visit attractions in Jakarta without spending 'forever' in traffic.
The city has a lot more to offer visitors than most people think. It is, after all, the largest city in Southeast Asia and one of the largest in the world. So, there are going to be some challenges avoiding traffic jams because there are so many people.
One of the first things that you have to consider in your itinerary planning is how you can avoid Jakarta traffic?
Some strategies are much more obvious than others. But one thing is for certain, the more you know about the traffic and transportation options, the better. Showing up at Soekarno-Hatta International Airport with no plan for the city is not a bright idea.
This article is intended to provide you with the best practical ways to avoid Jakarta traffic while getting to all the major museums and attractions throughout the city.  
---
1. Travel on Sunday if Possible to avoid Jakarta Traffic
Most of Jakarta's traffic woes are created because there are simply too many people driving to and from work on a daily basis. The current road infrastructure simply cannot handle it.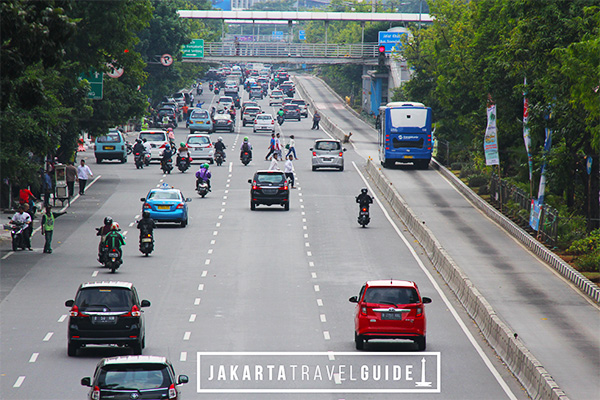 You will notice a significant difference in traffic in Jakarta when you go sightseeing on Sunday.
Fewer people are working and more people are at home relaxing with their families.
The next best day is Saturday. But the streets around malls such as Pondok Indah Mall, Grand Indonesia and Gandaria City can remain very busy on Saturday as well.
The big idea here is that you want to plan your itinerary for Sunday if possible.
Getting up north to Kota Tua and Chinatown is much easier on Sunday. So too is getting south to Taman Mini and Ragunan Zoo.
---
2. Use the new MRT System as much as humanly possible!
Traveling in Jakarta has changed ever since the MRT system opened up in the city.
Before, you really had only the choice of using the very congested commuter system or TransJakarta.
Now you can get all the way from Lebak Bulus MRT Station to Bundaran HI MRT Station without a single car along the way.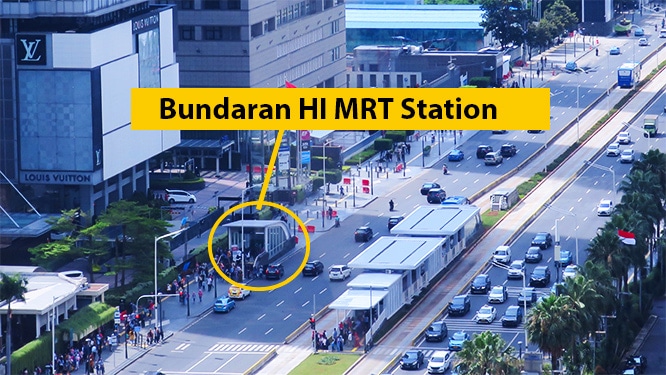 As the name suggests, Bundaran HI MRT Station is located next to Bundaran HI. This is a very famous roundabout that is close to the Monas, National Gallery, and National Museum.
You can access all kinds of attractions from this area of Jakarta.
Alternatively, you can take the MRT all the way down to Fatmawati MRT Station and then take a car to either Ragunan Zoo or Taman Mini.
Another convenient event to access in Jakarta using the MRT is Car Free Sunday.  
You can take get out at any station from Senayan MRT Station to Bundaran HI MRT Station and you will have direct access to the car-free area.
***Read more about the MRT System in Jakarta
Shopping using the MRT system in Jakarta.
How to buy tickets for MRT Jakarta?
---
3. Beat Jakarta Traffic by Staying at a Hotel attached to a Mall, close to the MRT Network
Shopping mall and hotel developers in Jakarta have made some smart decisions over the last 15 years.
Now you can avoid traffic jams in the city because many excellent hotels have been specifically built and physically attached to malls throughout the city.
Obviously, this is ideal for shoppers. But what about everyone else, right?
Well, the big idea here is that you won't have to get into traffic to buy your meals or groceries either. Since the malls in Jakarta have a surplus of restaurant choices you will save considerable time by staying near malls.
In other words, it doesn't make much sense of staying at a hotel far away from malls and the MRT network in Jakarta (unless you have a specific reason to do so!).
The next natural question is:
" What hotels are close to malls in Jakarta that are also within walking distance to MRT Stations?"
Fortunately, we have a useful list for you! Here are some great hotels in Jakarta that are close to malls and MRT Stations in central Jakarta:
***Read more about MRT Accommodation Information with this comprehensive guide.
---
4. Take advantage of the Airport Railink Train to/from Soekarno-Hatta International Airport
There is no denying the fact that Jakarta traffic can get really bad on the way to/from the airport.
Actually, it used to be much worse before the toll roads were built.
It is actually possible to fly into Jakarta and take a taxi or private car into the city center without traffic. But, this is usually only the case really late at night or really early in the morning.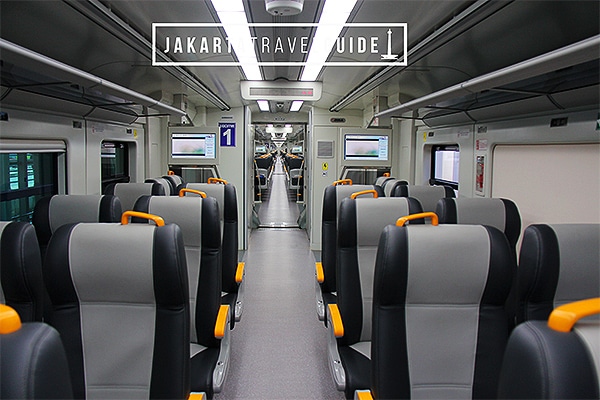 You can now take the airport train straight from the airport without spending a second in traffic. The added bonus is that you can transfer to the MRT system in under 3 minutes when you reach central Jakarta.
The journey time is approximately 45 minutes. Once you get to the Soekarno-Hatta Train Station at the airport, simply buy a ticket to go to BNI City Station in central Jakarta. From there you can walk to Dukuh Atas MRT Station in a few minutes.
***Read more about using the airport train to central Jakarta:
---
5. Forget about a car and use TransJakarta and the Commuter System
One of the reasons why Jakarta has massive traffic jams is the unwillingness for people to leave their cars at home.
It is a status symbol in Indonesia for people to have a vehicle. Therefore, many people who could take the extensive commuter train network or TransJakarta to work choose not to do so.
Instead, they spend hours in traffic. This is inefficient and also bad for the environment with more vehicle emissions being generated.
Getting to places like Bogor from Jakarta can be much faster and more comfortable by taking the commuter opposed to driving.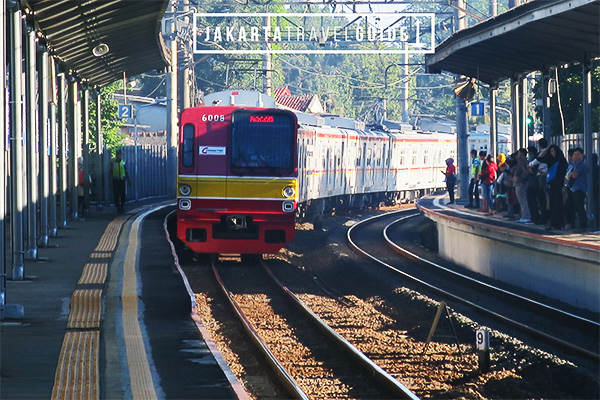 If you do plan on going somewhere think about public transit first, and a car second. This can speed up your trip and also make Jakarta's air much cleaner.
Also, take note that there are more and more new LRT Lines being created as well throughout Jakarta. More public transportation options will be available in 2-3 years from now!
***Read more about Jakarta's public transportation system:
---
6. Eat Dinner Early or Late to Avoid Jakarta Traffic
If you want to go to a trendy area in Jakarta like Senopati or Kemang for dinner, try to avoid peak travel times.
It can make a world of difference, trust us!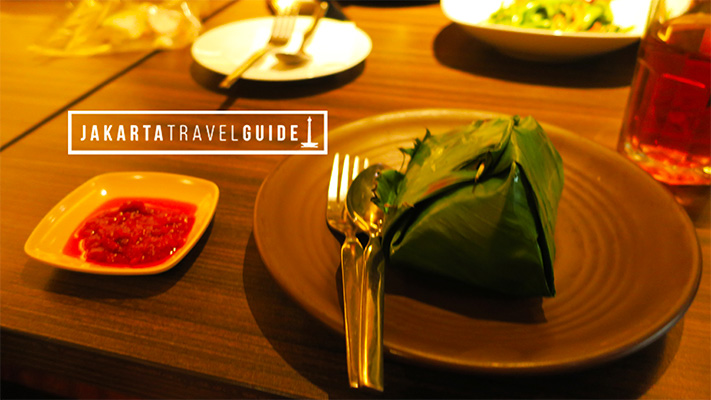 Eating at 8:30 pm opposed to 6:00 pm could easily cut your travel time by more than half. This is especially true if you are eating out on Friday or Saturday night.
Have a few drinks at home first before heading out and you will be rewarded with less traffic to deal with.
---
7. Use Go-Jek or GrabBike to bypass traffic jams in Jakarta.
If you are not overly concerned about safety try to use a moto in Jakarta when possible.
Both Go-Jek and GrabBike are competing companies in Jakarta. Simply download their app on your smartphone and book a ride.
The drivers in Jakarta typically will give you a call before they come to pick you up. They will provide you with a helmet. Don't get on the moto unless you are wearing a helmet.
The drivers tend to be quite skilled since they have been driving a moto for many years, but better to be safe than sorry!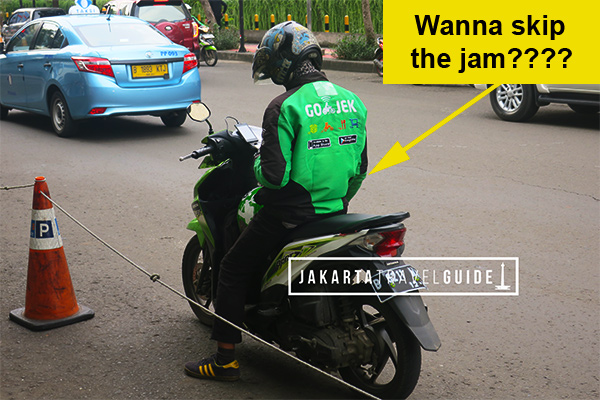 Motos bypass traffic by driving along the side of the road, or by weaving between vehicles. Either way, it isn't the safest way to get to your destination, but it is usually MUCH faster than driving in a car.
This is especially true during rush hour when too many cars are clogging up the streets.
---
8. Be proactive and always check how long your trip will take with Google Maps before getting in a car!
This could be the most important tip on how to beat Jakarta traffic jams. If there is heavy traffic expected, simply don't go, or just wait until later.
Keep in mind that map applications predict trip times based on cell phones. So, if Google Maps states that it should take 30 minutes to reach your destination, this averages both cell phones in cars and on motos!
This happens all the time.
The trip should take 10 minutes, but it ends up taking 25 minutes in a car.
If you see red on your route in Jakarta that should mean – HIGH ALERT, AVOID CAR TRAVEL.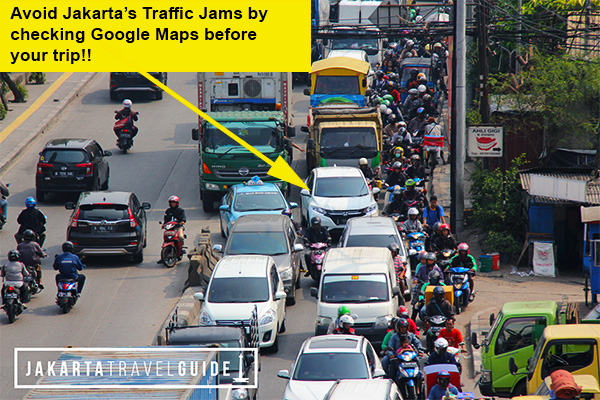 Sure motos will still whisk by, but you may be trapped in a car for hours.
Using Google Maps before your trip can also help you to make sure that the driver is taking the fastest route to your destination.
Many drivers in Jakarta use maps, but many still don't.
Either use your own phone or ask the driver to use their phone. Jakarta is not the place to risk being caught in traffic. You have been warned!
---
Beating Jakarta Traffic Jams: Summary
Jakarta traffic is quite famous in Southeast Asia. But it's one of those things until you see it and experience it, it's hard to know exactly what it is like.
One of the keys to beating the jams is breaking your routine of car travel all the time.
You can take a car everywhere in Jakarta, but be prepared to pay the price.
The MRT has really opened up a lot more options for sightseeing in the city. It provides seamless connectivity between the southern and central areas of the city.
This is especially evident on Car Free Sundays when thousands of people from southern Jakarta utilize the MRT to get to Bundaran HI.
Always remember, Sunday is the best day to travel in Jakarta. Everything is still open (including museums) but far fewer vehicles are on the road.
Although this is a comprehensive list of ways to avoid traffic jams in Jakarta, you may have some great ideas that we didn't think of! In this case, simply send us an email and we will add them to the list!