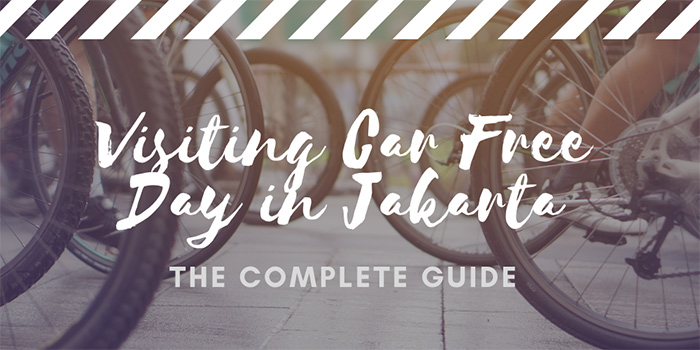 Jakarta Car Free Sunday: Everything you need to know about experiencing this massive event. This is the complete guide.
Jakarta Car Free Day or 'car-free Sunday' has turned into an epic weekly event in the nation's capital city!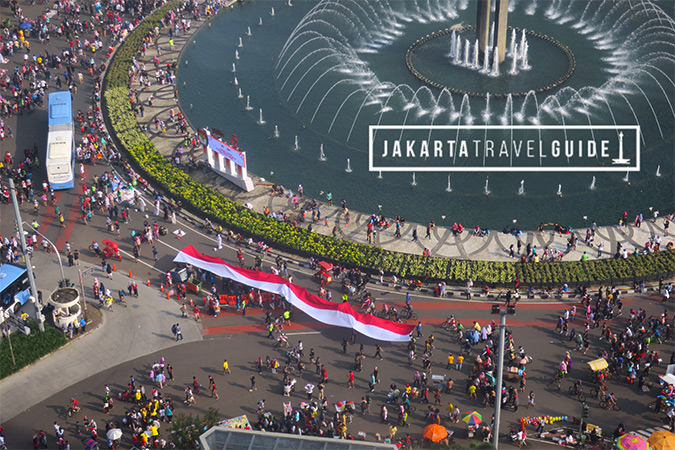 If you ask people who are from outside of Indonesia what they have heard about Jakarta, the usual answer is 'terrible traffic!'
Nobody is going to deny the fact that Jakarta has some traffic issues that the city is trying to overcome. However, with the recent opening of the MRT system, things are looking brighter in Jakarta. 
Another really interesting weekly event that is becoming extremely popular is car-free Sunday in Jakarta. Immediately, when you hear the phrase 'car-free' in Jakarta sounds contradictory.
How can a city with well over 10 million people have no cars on Sunday?
How can the city with massive traffic jams have car-free Sunday?
It sounds weird but that's what makes car-free Sunday in Jakarta such an interesting event to check out while you are in the city.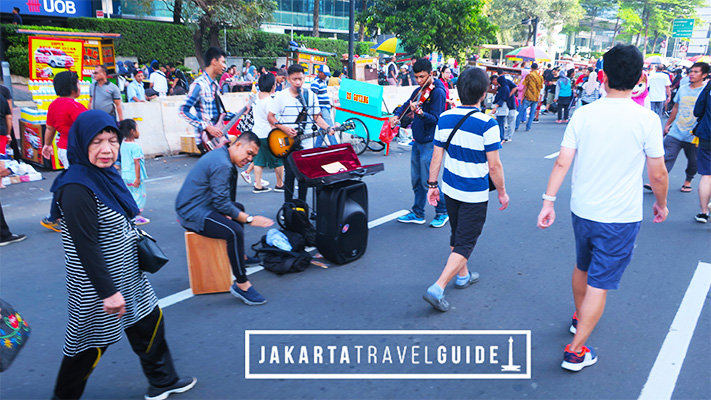 ---
How can Jakarta have no cars on Sunday?
The first thing that you have to realize when we talk about car-free Sunday is that not all the roads throughout the city become 'car-free'. 
Actually, there are designated zones within the city that are completely blocked off to motorcycles and cars. These designated zones are where thousands upon thousands of participants go to experience this event. 
Although Jakarta does have some public parks that are popular such as:
The city could still use much more green space. When the main roads close down for Car-Free Sunday in Jakarta this has opened up lots of space for participants to cycle, run, jog, skateboard or walk. 
Initially, the idea of car-free day in Jakarta was focused on reducing pollution awareness in the city. Currently, car-free day has evolved into so much more. 
When you participate in Jakarta car-free day you will notice that it is also about health and well being. Not just pollution. People from all over Jakarta and the surrounding satellite cities travel to central Jakarta to get a sweat on. 
People cycle far distances to take part in the festivities.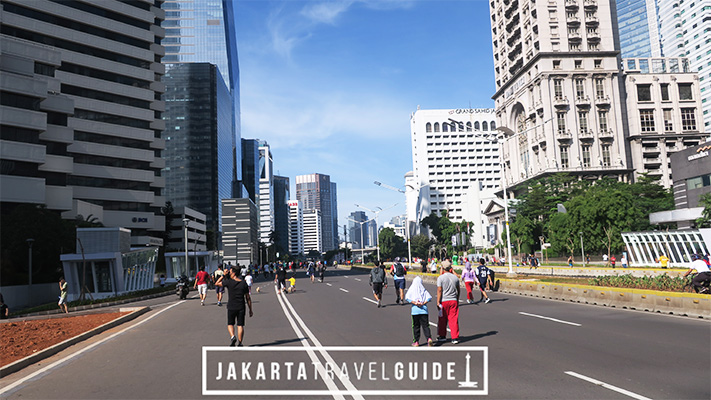 Unlike marathons or half marathons, car-free day in Jakarta doesn't place pressure on participants to perform to the best of their ability. Some participants do really push themselves to get a great workout, but many people simply socialize while walking at a comfortable pace. 
---
Car Free Day Street Market Mania 
When you reach the Senayan, Sudirman, Thamrin and Monas areas you will see literally hundreds of street vendors set up along the roads. 
Car-free day in Jakarta has also evolved into the largest street market in the city by far! 
Although you would expect there to be drinks and some snacks along the road for participants, they sell pretty much everything. Clothing, arts, crafts, even some electronics!
Jakarta car-free day wasn't initially intended as an economic catalyst, it certainly has become one. Thousands of locals earn extra money every week because of the extended work hours that have been created due to the event. Although it reduces pollution and promotes wellness, car-free day in Jakarta has become a tourist attraction as well.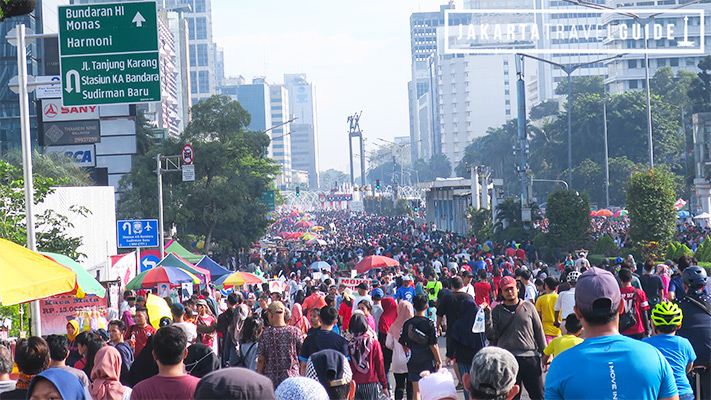 There are so many local participants that you get a real first-hand view of what locals eat, how they exercise and the type of music they listen to. 
---
Free Exercise Sessions at Car-Free Sunday in Jakarta
Another interesting activity that you might want to try out are the outdoor exercise classes that are organized at car-free day in Jakarta. As you might have guessed, they are also free to try out.
They often have classes beside the southern entrance to Grand Indonesia. This is situated between Dukuh Atas MRT Station and Bundaran HI MRT Station if you are traveling via MRT. 
---
Frequently Asked Questions about Going to Car-Free Sunday Jakarta
---
Where is car-free Sunday in Central Jakarta?
Technically, car-free day occurs in other parts of Jakarta and Indonesia, in addition to central Jakarta. The central location in downtown Jakarta is the largest one in the capital. 
The location of car-free day in central Jakarta is located along Jalan Sudirman and Jalan M. H. Thamrin. Technically, this is the same road that just changes names at Bundaran HI and the Selamat Datang Monument.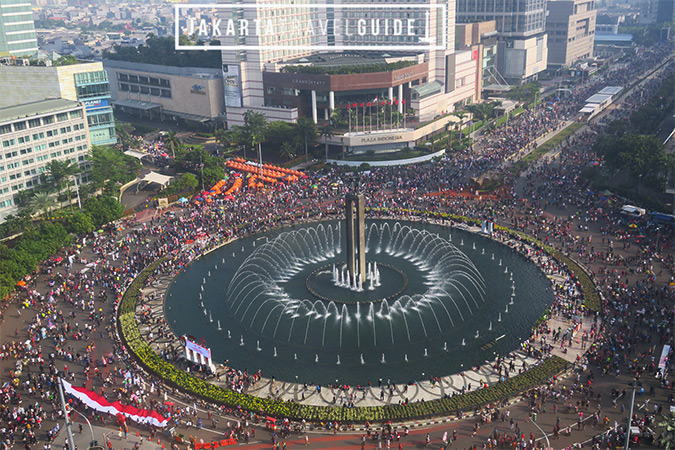 The route spans from Patung Pemuda Membangun to the Monas.
If you want to place these locations into context, you can type in these corresponding GPS coordinates into your phone:
Patung Pemuda Membangun: -6.229307, 106.799401
Monas (the National Monument of Indonesia): -6.175297, 106.827175
Once you reach the Monas it's possible to continue your exercises inside Monument Park (this surrounds the Monas).
You can access all of the car free locations in Indonesia using this webpage.
---
How to Get to Car Free Sunday in Jakarta using the MRT?
One of the added bonuses of going to car-free day in Jakarta is that you can directly access the event using the MRT system. 
Technically there are six MRT stations that are in the 'car-free zone' in central Jakarta. 
They include:
North 
South
Senayan MRT Station and Bundaran MRT Station are the most practical stations to go to if you want to complete the 'whole car free circuit.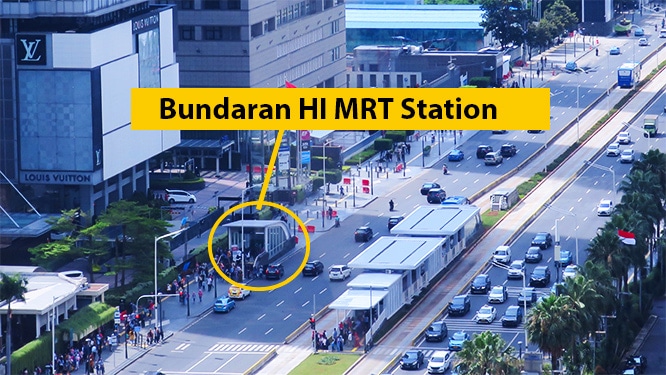 Senayan Station is the closest station to the southern end of the zone, whereas Bundaran HI Station is the closest to the Monas. It is the northernmost station on the line and provides the best access to the Monas area and the surrounding Monument Park.
Unfortunately, this information isn't a secret anymore. Be prepared for busy trains and some wait time if you plan on getting off at Bundaran HI Station. Many people attending car free Sunday in Jakarta want to walk from Bundaran HI to the Monas. 
If you want to get close to the action, but still far enough away from the thick crowds at Bundaran HI MRT Station, get off at Dukuh Atas MRT Station (or the even quieter Setiabudi MRT Station).
Another practical idea is to take the MRT to either Senayan or Bundaran HI and then walk or run to the other station. The MRT in Jakarta has opened up all kinds of new possibilities for locals and visitors to the city. 
***Read More about MRT Jakarta with these detailed guides:
MRT Jakarta Guide: The most comprehensive guide to Jakarta's MRT System
MRT Jakarta Accommodation Guide: Everything you need to know about finding the best properties near each MRT Station
MRT Jakarta Shopping Guide: Everything you need to know about getting to the best shopping malls near MRT Stations
MRT Jakarta Map: A detailed overview of Jakarta's MRT
MRT Jakarta Price Guide: Find out how much each trip will cost.
MRT Jakarta Ticket Guide: Learn how to purchase MRT tickets for Jakarta while avoiding the lines.
---
How to drive to car free day in Jakarta if the roads are closed?
It is also possible to get a drive to car free Sunday because the parallel main roads servicing central Jakarta remain open. 
You can get a taxi or a private driver (Go or Grab) to drop you off near the main thoroughfare and you should have no problem accessing the event. Simply get dropped off and walk to the car-free zone.
---
Do TransJakarta buses still operate during car free day in Jakarta?
Although cars and motos are banned from entering the car free zone, the area is still serviced by TransJakarta public buses. It is possible to take the bus to and from the event. 
You should also be aware of the buses as you run, walk, cycle or jog at car free day as well. Some of the areas have separate isolated lanes for the buses to travel. Other areas such as Bundaran HI do not. Therefore, be cautious especially if you are listening to headphones while you are exercising.
---
What time is Jakarta Car Free Sunday?
Jakarta Car free day happens from 6 am until 11 am every Sunday. If you arrive at 5 am there probably won't be very much traffic at that time anyway. But from 6 to 11 am are the official hours. 
Since there are thousands of participants involved in this weekly event it does take a bit of time to clear the roads before motos and vehicles are back. The crowds must disperse and use forms of public transportation (such at the commuter, MRT or Transjakarta) to get back to where they came from.
Therefore, 11 am is usually when you will start to see some cars again, but give or take 10-15 minutes. 
---
Does it cost anything to go to car-free day in Jakarta?
Car free day in Jakarta is absolutely free of charge! This makes it an ideal day for your complete family. 
The only costs that you must consider when you visit car free Sunday is transportation (getting to/from the event), refreshments, and any food that you might by along the way. 
With TransJakarta buses and the MRT providing affordable transportation options, this is a very, very affordable activity to take part in on a weekly basis.  
Also remember that car free day in Jakarta is also a street market as well. Therefore, bring some extra cash along for some shopping.
***Read More about shopping in Jakarta using these guides:
---
What are the most convenient hotels to stay at to go to car free day in Jakarta?
If you want to take part in car free Sunday in Jakarta, try to stay as close as possible to the MRT Stations in the city. The hotels that overlook Bundaran HI are also close to Bundaran HI MRT Station. They are extremely convenient for shopping at Grand Indonesia, Plaza Senayan and Thamrin City. But also convenient for going to car-free and accessing the MRT network. These properties include:
One of the added benefits of staying at these properties is that you can get amazing views of car free day as well. The Mandarin Oriental for instance, has spectacular views of Bundaran HI and all the car free participants as you can see here.
Other convenient options include the following properties:
Ritz Carlton Pacific Place – only 300 meters from Istora MRT Station 
Harris Suites fX Sudirman – only 200 meters from Istora MRT Station
All Seasons Jakarta Thamrin – only 100 meters from Dukuh Atas MRT Station
These properties tend to have high service standards, but the prices are not for everyone. You can also stay a few stations south in Blok M where properties are cheaper or in Tanah Abang.
---
Final Thoughts about Visiting Car Free Sunday in Jakarta
There is no denying the fact that car-free day in Jakarta has evolved into something so much more than a stand against pollution. 
It has transformed into a tourist attraction and a healthy-living event for everyone to enjoy. Heck, it's even a massive street market that helps local vendors.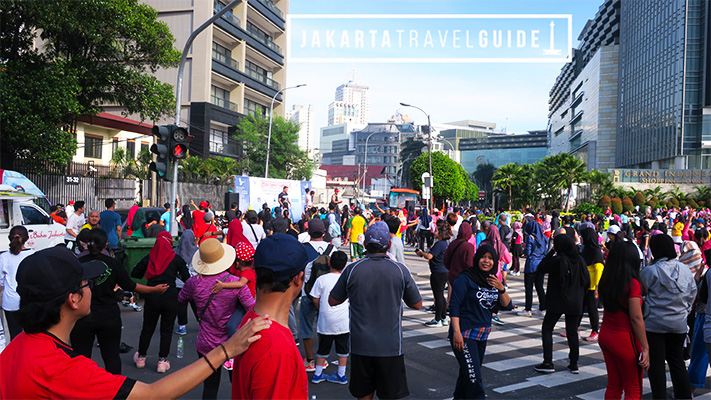 But it can get very, very busy. 
Arrive really early if you want to cycle without people getting in your way. Peak times tend to be from 8-10 am. So the earlier, the better. 
Also, keep in mind that it's possible to access many other tourist attractions after car free Sunday. Some of them include:
All of these attractions are only a few minutes from the Monas. Consider batching these into a Sunday itinerary when road traffic is light. 
***Read more about Jakarta itineraries using this comprehensive guide.
Please enjoy car-free day in Jakarta and remember to burn some calories while reducing emissions in the city!