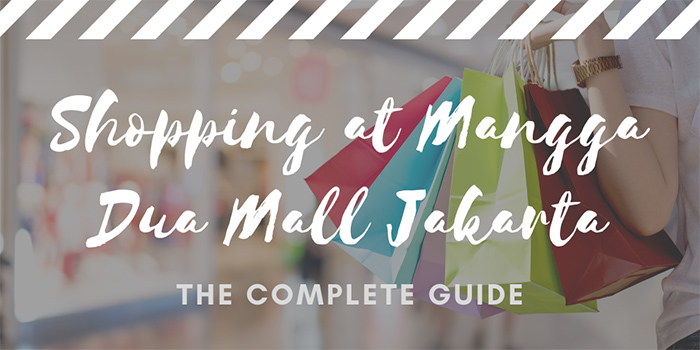 The ultimate guide to Mangga Dua Mall. Everything you need to know about shopping for electronics.
Mangga Dua Mall is a popular electronics mall in Jakarta. As its name suggests it is located in Mangga Dua. This is an area in northern Jakarta that is known for many shopping centers which specialize in cell phones, computers and cameras.
Don't be surprised if you hear this shopping center also being called 'Mall Mangga Dua' or 'Mal Mangga Dua.
To help you place its location into context, Mangga Dua Mall is located about 6 km north of the Monas. It is about 1.5 km east of Fatahillah Square in the center of Kota Tua.
Electronics and More Electronics
You should consider shopping at this mall if you want to shop for electronics and useful gadgets.
Of the malls in Mangga Dua, Mangga Dua Mall is one of the best choices in terms of selection. It is considered to be one of the best places in northern Jakarta for affordable electronics prices.
The mall consists of multiple stories of small shops. Escalators are located at opposite ends of the central atrium that occupies the ground floor. The atrium is the venue where promotions and events are held. This is especially true on weekends when more shoppers are at Mangga Dua Mall.
If you have shopped at other malls in Jakarta, you will find that this mall resembles the look of Mall Ambassador in Kuningan. Both of these malls have a basic rectangular shape consisting of multiple stories of small electronics shops. They also have lots of digital advertisements for electronic brands scattered throughout each mall.
Bargaining
Like many of the small, budget malls in Jakarta, you can try to bargain for prices at Mall Mangga Dua. Some of the merchants will be up for a little negotiating whereas others will not be able to lower their prices. Often, this depends on whether the individual owns the shop or simply works for the owner.
One of the convenient features of Mangga Dua Mall in Jakarta is the pedestrian bridge that connects it to ITC Mangga Dua across Jalan Mangga Dua Raya.  
ITC Mangga Dua is another good electronics mall in this area of Jakarta.
If you are planning on going to watch a movie at the cinema, Mangga Dua Mall is not the place. Currently, there is no cinema at this mall. You are better off heading to Tharmin and watching a movie at Grand Indonesia or Plaza Indonesia.
---
Mangga Dua Mall: Essential Visitor Information
Opening Times: Everyday from 9 am to 8 pm
GPS Coordinates: -6.136921, 106.824390
Address: Jl. Mangga Dua Raya No.1, RT.1/RW.12, Mangga Dua Sel., Kec. Sawah Besar, Kota Jakarta Pusat, Daerah Khusus Ibukota Jakarta 10730
---
What is located around Mangga Dua Mall in Jakarta?
If you are shopping in Mangga Dua then get ready for a lot of electronics. This is considered to be one of Jakarta's best hubs for gadgets, computers, and smartphones.
Other Malls Nearby
Fortunately, Mangga Dua Mall is located right in the middle of the shopping action. Here is a list of the other malls in this area that are either within walking distance or a short ride away:
Mangga Dua Square
ITC Mangga Dua
Harco Mangga Dua
WTC Mangga Dua
Pasar Pagi Mangga Dua
Of these malls, the easiest one to get to from Mangga Dua Mall is ITC Mangga Dua. As mentioned before, these two malls are physically connected via a pedestrian bridge. You can easily walk between them in under 2 minutes.
Pasar Pagi Mangga Dua is physically connected and located west of ITC Mangga Dua. It is a great mall for budget shopping. You will find lots of shoes, sunglasses and affordable sunglasses there.
Best Accommodation Choices
Most of the hotel options near Mangga Dua Mall are quite budget-friendly. Since this area of Jakarta is known for bargains, so too are the accommodation prices.
Some of the closest properties to the mall include:
Ibis Styles Jakarta Mangga Dua Square
The closest hotel to Mangga Dua Mall is Le Grandeur. This is an older 5-star property that still receives good reviews because it is really affordable. It has a pool, gym and better than average breakfast buffet as well.
Attractions to Explore
One of the added benefits of staying near Mangga Dua Mall is the convenient access to Kota Tua – one of Jakarta's favourite tourist areas.
This is the former Dutch colonial area of the city. Currently, most of the museums and markets in Kota Tua are centered around Taman Fatahillah (Fatahillah Square).
You drive to Kota to from Mangga Dua Mall in less than 10 minutes.
Kota Tua is known for museums, so if you enjoy history, this is the place to check out before you leave Jakarta.
The museums in Kota Tua include:
You can walk to any of these within 5 minutes from Taman Fatahillah.
Getting to Mangga Dua Mall
At the moment, there is no MRT Station relatively close to Mangga Dua Mall. The two closest commuter stations are Jakarta Kota Station and Kampung Bandan Station.
Jakarta Kota Station is located on the way to Kota Tua, so it tends to be a very convenient, but busy station. You can either walk or arrange a short drive from Jakarta Kota Station to Mangga Dua Mall.
---
10 Closest Hotels to Mangga Dua Mall in Jakarta
***Organized according to Star Rating
---
Summary: Shopping at Mangga Dua Mall Jakarta
The words 'Mannga Dua' and 'electronics' seem to synonymous in Jakarta. This is without question one of the most popular areas for finding cell phones and computers in the city.  
As a general rule it is okay to bargain for prices at Mangga Dua Mall. It is worth a try to save money when possible.
Another suggestion when you are shopping here is to check the price of the gadget you are looking at online before buying it.
Popular Indonesian sites like Lazada Indonesia and Tokopedia often have the exact same products for sale. This can ensure that you are getting a good price and it can also help you to bargain a better deal. It is very hard for stores at Mangga Dua Mall to offer products cheaper than online due to rent fees. But if the price difference is small it might be worth buying it on the spot as opposed to waiting to get it shipped.