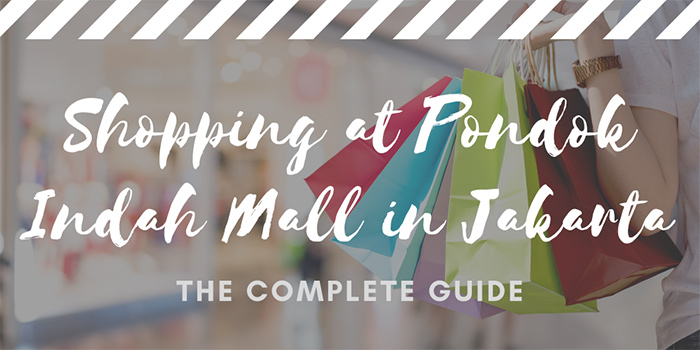 Pondok Indah Mall is a large shopping complex in an upper class residential suburb of southern Jakarta called Pondok Indah. If you plan on visiting Pondok Indah Mall it is located about 12 km southwest of the Monas.  
Pondok Indah Mall is known locally by the short form 'PIM'. It's actually quite rare to hear Jakartans describe the mall using its full name.  Instead, PIM is used to direct taxi drivers and private cars to the complex. Therefore, if you are thinking of shopping there or staying nearby, just use PIM and it should be totally fine.
Initially PIM started out as a single building which is currently called Pondok Indah Mall 1, or PIM 1 for short. A second mall building was added directly across the road and its currently called Pondok Indah Mall 2 or PIM 2 for short.
The latest addition to Pondok Indah Mall is called the Street Gallery.
The Street Gallery is an extension of PIM 1 and it mainly contains restaurants that cater to the middle and upper class resident population of Pondok Indah.
PIM 1 and PIM 2 are physically connected to one another by two mulistory pedestrian bridges called Skywalk North and Skywalk South. These extend above the busy road below and they have shops throughout each one of them.
Currently, there is construction underway to create another extension to Pondok Indah Mall and also a residential component. Therefore, the next time you shop at PIM it could be even bigger. Recently, the Intercontinental Hotel Jakarta opened which is physically attached to Pondok Indah Mall.  
Aside from being in a prominent position in Pondok Indah, Pondok Indah Mall is very popular due to its wide restaurant selection.
Both PIM 1 and PIM 2 have their own food courts with both local and international choices. The excellent restaurants in the Street Gallery are also an added bonus for visitors to the mall.
Pondok Indah Mall also has two cinemas, one in PIM 1 and the other in PIM 2. This allows visitors at the mall to check seat availability at both cinemas for the same show.  International blockbusters are shown in English with Bahasa Indonesian subtitles for the convenience of local viewers.
There is also a family water park directly east of PIM 1.  This is popular with families living in central Jakarta.
Pondok Indah Mall is particularly busy on weekends when locals, expats and tourists want to dine out and get some shopping done. During the week it is much quieter. Therefore, if you don't like thick crowds, you are best to shop at Pondok Indah Mall during the week if possible.
---
Pondok Indah Mall – Essential Visitor Information
Opening Times:
Everyday : 10:00 am – 10:00 pm
Address: Jl. Metro Pondok Indah, RT.1/RW.16, Pd. Pinang, Kby. Lama, Kota Jakarta Selatan, Daerah Khusus Ibukota Jakarta 12310
---
What is around Pondok Indah Mall in Jakarta?
Pondok Indah Mall is considered to be one of south Jakarta's busiest malls.  This is particularly true on weekends when the food courts are jam-packed with visitors.
Pondok Indah Mall has a wide range of shopping options including luxury brands but also mid-range shops as well. It caters to most shoppers due to its wide selection of brands.
Pondok Indah is a wealthy area of the city with massive mansions in the area around the mall. Pondok Indah Mall is also only a few kilometers away from Jakarta Intercultural School which is widely regarded as the best international school in the country. This means that PIM is very popular with students (particularly the cinema) due to its proximity to the school.
The area around Pondok Indah Mall isn't particularly well known for accommodation options. But that changed when they opened the Intercontinental Hotel. Now you can shop at Pondok Indah Mall and then walk right to your room without spending a second in traffic outside. Super convenient.  
Aside from the Intercontinental you won't find too many other accommodation options right near the mall. If you drive a few kilometers from the PIM you can consider staying at:
Kristal Hotel is popular with business guests and guests taking part in activities at Jakarta Intercultural School. It also has a large pool and a great gym facility if you want to work out while visiting the city.
Another popular location in Pondok Indah is Pondok Indah Golf Club.
The course and its driving range are located only a few hundred meters southeast of Pondok Indah Mall.
If you want to get some shopping done, then Pondok Indah Mall is not the only shopping center in this area of the city.
You could also consider going to Gandaria City Mall. The distance between Pondok Indah Mall and Gandaria City Mall is only 3 km, with PIM being south of Gandaria. Gandaria City Mall has a similar selection of shops and restaurants, so it makes for a good option if a particular product isn't available and Pondok Indah Mall.
Directly east of Gandaria City Mall is an area called Blok M. This a shopping area that is known for affordable prices, traditional markets and locally produced goods. Blok M Square, Pasaraya Blok M, and Plaza Blok M are three shopping centers that are located about 2.5 km east of Gandaria City Mall and about 4.5 km northeast of Pondok Indah Mall.
Pasaraya Blok M might be of interest to visitors to Jakarta as it has a floor that specializes in Indonesian made arts, crafts and souvenirs that are worthwhile checking out. Although quite expensive, the quality is pretty good and the selection is impressive.
A good market not too far from Pondok Indah Mall (PIM) is Pasar Mayestik.
Pasar Mayestik (Mayestik Market) mainly has fabric stores – primarily selling Indonesian-made batik.  The market building has multiple floors and the stores outside the market are also very affordable if you are looking for fabrics, so don't forget to check them out as well.
Pasar Mayestik is about 5 km north of Pondok Indah Mall.  It can be reached by driving by Gandaria City Mall and turning right.
Another small shopping facility located about 4.5 km northeast of Pondok Indah Mall is Dharmawangsa Square.
Regardless of your plans in and around Pondok Indah Mall always be sure to check the traffic conditions before you decide to drive in this area.
---
10 Closest Hotels to Pondok Indah Mall in Jakarta
***Organized according to Star Rating
---
Shopping Pondok Indah Mall in South Jakarta: Summary
With two cinemas, lots of internationally branded products and plenty of restaurants, Pondok Indah Mall is a good choice for families in south Jakarta. It is significantly more busy on weekends than during the week.
They have large family rooms for mothers who are breastfeeding or changing baby diapers as well.
Pondok Indah Mall is one of the most popular shopping malls in all of South Jakarta. Gandaria City Mall is its main competitor. We suggest shopping at both of them and picking your favourite!