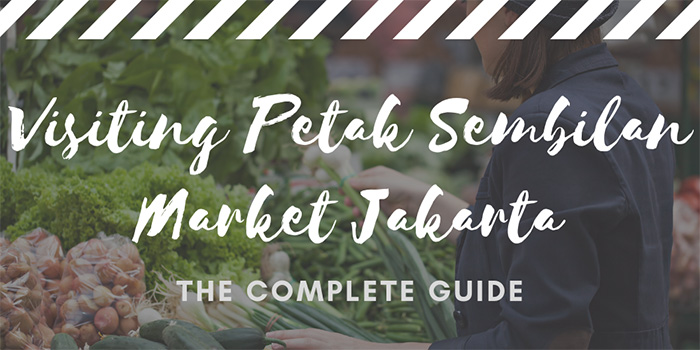 Everything you need to know about shopping at Petak Sembilan Market in Chinatown Jakarta
Petak Sembilan Market is one of the best street markets in all of Jakarta. It is located right in the heart of Chinatown in Jakarta. You might also hear it being called Pasar Petak Sembilan according to its translation to Bahasa Indonesia.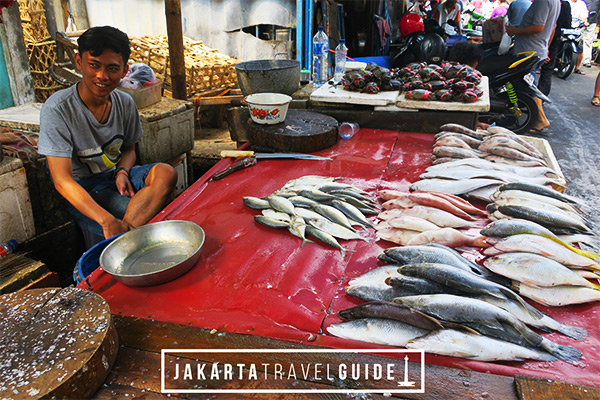 When you think of Chinatown in Jakarta, you think of Petak Sembilan Market. Unlike some of the other Chinatowns in Southeast Asia, Jakarta's is still one of the most genuine. It still serves as a functional marketplace, where local merchants and shoppers still far outnumber tourists. The ambiance here is Southeast Asia at its finest.
A visit to Chinatown in Jakarta shouldn't be complete without visiting Petak Sembilan Market. It is without question one of the most photogenic streets in all of Jakarta.
As you pass by Pasar Glodok and turn left onto Jalan Kemenangan Raya you will be immediately in the heart of the action. Petak Sembilan Market consists of numerous vegetable, fruit, seafood, meat and traditional herb stalls situated along both sides of a narrow street.
What will you find in the market?
Many of the stalls have exotic seafood such as sea cucumbers and octopi and interesting produce for sale.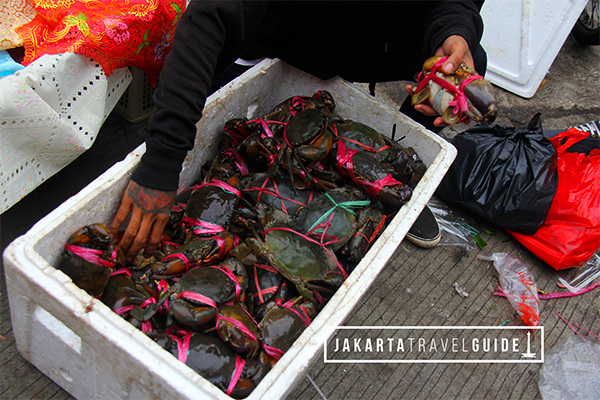 There are multiple extensions of the market into very interesting narrow alleyways that also have local vendors selling their products.
Expect a bustling environment at the market with a mix of merchants, shoppers and tourists. There are also Buddhist Temples situated along the Southwestern end of the market that encourage to walk through the entire strip.
Take your camera and try to capture as much of this vibrant marketplace as possible.
---
When is the best time to visit Petak Sembilan Market in Chinatown?
People visit Petak Sembilan Market in Chinatown all the time throughout the day, but the best time is during the morning.
The reason why this is the case is that this is still a meat and seafood market. When the fresh catch of the day is brought to the market it has to sell early before it spoils.
Meat (chicken and beef) are also chopped up and sold at the market. Local shoppers know when the meat and seafood are fresh and that is in the morning.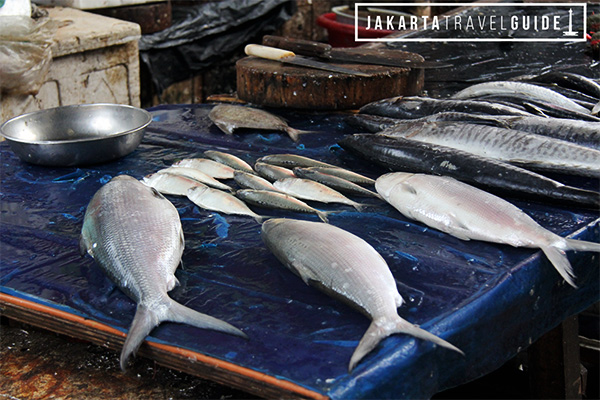 If you do visit Petak Sembilan Market during the afternoon it is still a busy, vibrant place because fruit, vegetables, and traditional Chinese goods are being sold. However, if you have the time in your itinerary, then try your best to visit the market early in the morning.
---
Petak Sembilan Market: Essential Visitor Information
Opening Times: Everyday from 5 am – 4 pm (sometimes later)
GPS Coordinates: -6.143660, 106.812993
Address: Jalan Kemenangan No.40, Glodok, Tamansari, RT.5/RW.1, Glodok, Kec. Taman Sari, Kota Jakarta Barat, Daerah Khusus Ibukota Jakarta 11120, Indonesia
---
What is located around Petak Sembilan Market in Jakarta?
One of the benefits of visiting Petak Sembilan Market is that it is located right in the middle of Chinatown. This makes it super convenient to explore other markets and points of interest in this area.
Temples in Chinatown
There are three temples within a minute or two of the market:
Jin De Yuan Temple
Dharma Bhakti Temple
Vihara Dharma Jaya Toasebio
Some tourists visit these temples while they are in Chinatown, but many others simply don't know they exist. Of these, Dharma Bhakti Temple is the most famous and impressive. It is adjacent to the market street and can't be missed if you walk the entire market.
Electronics Malls
Chinatown and Glodok are also famous for electronics. This area is one of the best for finding good bargains.
Most of the electronics malls in Glodok are west of Petak Sembilan Market and Pasar Glodok. There is a pedestrian bridge attached to Pasar Glodok that you can walk across to access the following malls across the road:
Orion Glodok
Plaza Glodok
Harco Glodok
LTC Glodok
These malls (listed above) are primarily focused on selling computers, handphones, and gadgets).  The exception is LTC Glodok. This is the place where you can find electrical, plumbing and construction supplies. It has an extensive selection of materials for trade works.
Petak Sembilan Market is also close to two of Jakarta's main areas for sightseeing:
Close to Kota Tua
Kota Tua is Jakarta's 'Old Town' that is rich with Dutch colonial architecture. You can walk to Kota Tua in about 10-15 minutes.
These are some of the most popular points of interest in Kota Tua:
To reach the Monas area in central Jakarta you will have to travel south of the market.
Best Accommodation Options
Along the way to the National Monument, you will pass some of the best-priced hotels in the city such as:
All three of these properties are well managed and positively reviewed by guests.
Close to the Monas
As you travel south of Chinatown you will transition into the Monas area. There are various points of interest near the Monas such as:
You are better off seeing all of these sights during the same day around the Monas to reduce your time in traffic.
---
10 Closest Hotels to Petak Sembilan in Jakarta
***Organized according to Star Rating
---
Summary: Shopping at Petak Sembilan Market Jakarta
The refreshing thing about Petak Sembilan Market in Chinatown is that it is still operational. This is 'first a market', and second a tourist attraction (not the other way around). It remains a genuine place to capture vivid pictures while buying some local snacks.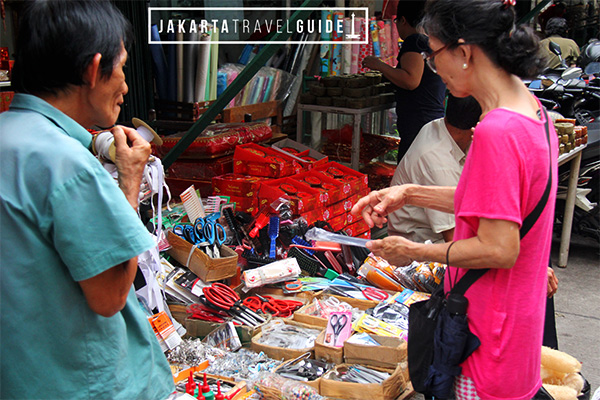 Keep in mind that the market can get busy at times. It is oriented along a narrow road that can get very busy with motos, pedestrians, and merchants transporting food all over the place. If you find it too busy then deviate off the main road into some of the cool alleyways that have shops set up. You will appreciate the quaint nature of these quieter spots.
It isn't the best road if you are traveling with small children, however.
If you are visiting Chinatown then plan on seeing the temples in this area as well. Just keep walking along the market street and you will first come across Dharma Bhakti Temple and then Jin De Yuan Temple.