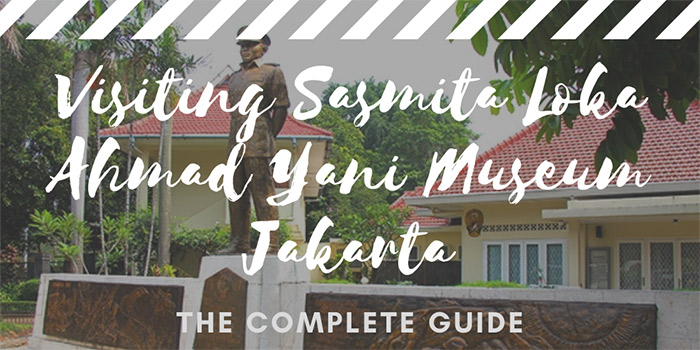 The ultimate guide to The Sasmita Loka Ahmad Yani Museum. Everything you need to know about this historical point of interest in central Jakarta
Sasmita Loka Ahmad Yani Museum is an interesting, historical place to add to your itinerary of Jakarta. It is located about 4 km south of the Monas.  As the name suggests, this museum is named after Ahmad Yani.
Jakarta has some really interesting, small museums in Menteng and this is one of them!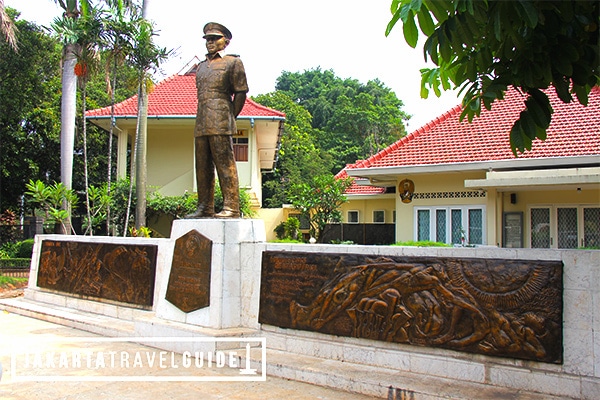 Background Information
Ahmad Yani was a military general who was born on June 19th, 1922. He was a prized Indonesian war hero for his efforts against the British, Dutch and various rebel groups. One of his most successful leadership efforts occurred when he defended Magelang against the Dutch when they attempted to take over the city. This earned him the nickname of the "Savior of Magelang".
In case you are wondering why the museum is located here, this is the site where Ahmad Yani was murdered on October 1st, 1965. Intruders shot him during a coup d'etat attempt. Five other high ranking generals were also murdered as victims of the 30 September Movement.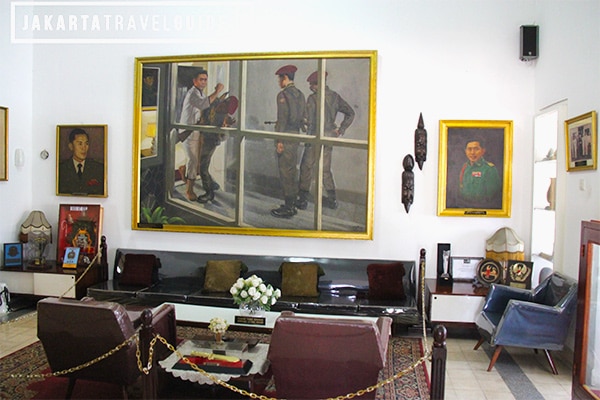 After Ahmad Yani's death, his remaining family members moved out of the house. It was later named Sasmita Loka Ahmad Yani Museum in memory of the fallen war hero.
---
Collections and Exhibits at The Sasmita Loka Ahmad Yani Museum
This museum is easy to navigate due to its small size. When you reach the museum grounds you will see a statue of the late general.
This is how you know that you have reached the correct spot.  
Walk along the pathway to the entrance. Take off your shoes and feel free to enter. Since this is a house be sure to remove your shoes out of respect. There will be at least one security guard enforcing this rule throughout the interior of the museum.
Since this is the house where general Ahmad was killed, there are many artifacts dedicated to his life throughout the museum.
Paintings and clothing are on display. You will also see a dedicated plaque marking the place where Ahmad Yani was shot in 1965. There is also a stuffed tiger and various awards distributed throughout the house. The same furniture is still in the house and so too are the bullet holes from the day of his killing.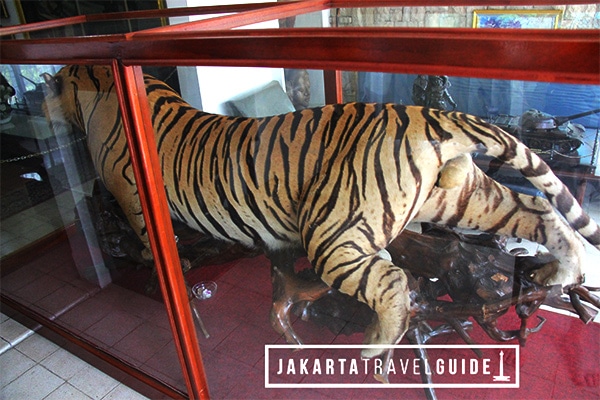 Although the interior of the museum is small, there are a few things to explore outside. One of his old vehicles is stored in a glass room. You will also see a plaque dedicated to him behind his statue in the front section of the grounds.  
 The exhibits are not overly sophisticated, it is interesting just seeing what kind of home he lived in during the '60s.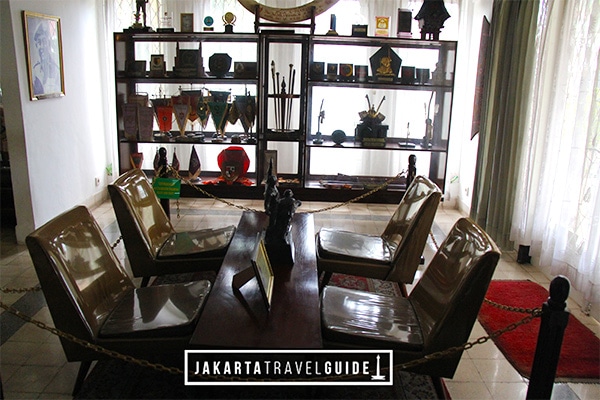 ---
Sasmita Loka Ahmad Yani Museum – Essential Visitor Information
GPS Coordinates: -6.204585, 106.836539
Street Address: Jl. Lembang No.67, RT.11/RW.7, Menteng, Kota Jakarta Pusat, Daerah Khusus Ibukota Jakarta 10310
Hours of Operation
Be sure to confirm opening times before visiting this museum. They tend to be quite laid back when it comes to holding official hours here at times.
Entrance Price for Ahmad Yani Museum: Free of Charge
---
What is around Ahmad Yani Museum in Jakarta?
One of the benefits of visiting Ahmad Yani Museum is that it is close to many other museums and points of interest in central Jakarta.
Menteng was once one of the main districts used by the Dutch during the colonial days. Therefore, the environment around the museum is surrounded by tree-lined roads and large mansions. It is possible to walk to different locations due to the shade along the streets here.
Many foreign embassies are currently located in this area of Jakarta. Most of them are housed in large residences that have been converted into office spaces.
Points of Interest Near the Museum
Numerous historical points of interest are located within a 5 km radius of Ahmad Yani Museum:
Public Parks
Due to the greenery in this part of Jakarta, there are a few popular public parks that are located about 900 meters to 2 km north of the museum:
The Ahmad Yani Museum is only a 5-minute drive away from Bundaran HI and the Selamat Datang Monument.
Best Accommodation Options
The area around the central roundabout (Thamrin) is one of the best places to stay in all of Jakarta. Consider staying at one of the four hotels that overlook this famous landmark. You can get to these properties in 5 minutes from the museum:
All of these properties are within walking distance of Bundaran HI MRT Station.
Some other points of interest that you might want to explore around Sasmita Loka Ahmad Yani Museum include:
---
10 Closest Hotels to Sasmita Loka Ahmad Yani Museum in Jakarta
***Organized according to Star Rating
---
Final Thoughts about visiting Ahmad Yani Museum Jakarta
If you enjoy reading about the history of military rule and colonization in Indonesian this is a must-see museum.
It isn't large like the National Museum. It isn't new and photogenic like MACAN Museum. But it is really interesting because it is a house where Ahmad Yani lived and it is also where he lost his life.
General Ahmad Yani played a pivotal role in many battles. Consequently, he is well known by historians in Indonesia.
Even if you don't know much about the history of the country, you might find it interesting to see all the personal items displayed within his house. It brings back memories of the tumultuous past in Indonesian leadership.