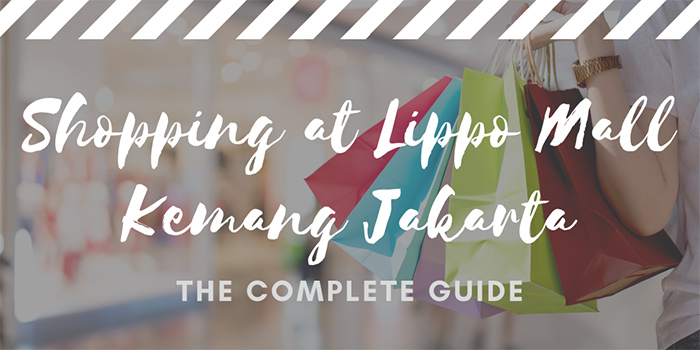 The complete guide to Lippo Mall Kemang. 
Lippo Mall Kemang is a nice, modern shopping center that is located in one of Jakarta's best areas for restaurants and bars – Kemang.
Kemang is probably the most popular area in Jakarta for expats living in the city, and for good reason. It has no shortage of excellent restaurants, bars, and cafes to satisfy all tastes. It is one of Jakarta's trendiest neighborhoods and it also has a vibrant art scene. If you visit Lippo Mall Kemang you will be only a short drive away from Jalan Kemang Raya. This is the road that has many of Jakarta's best dining options.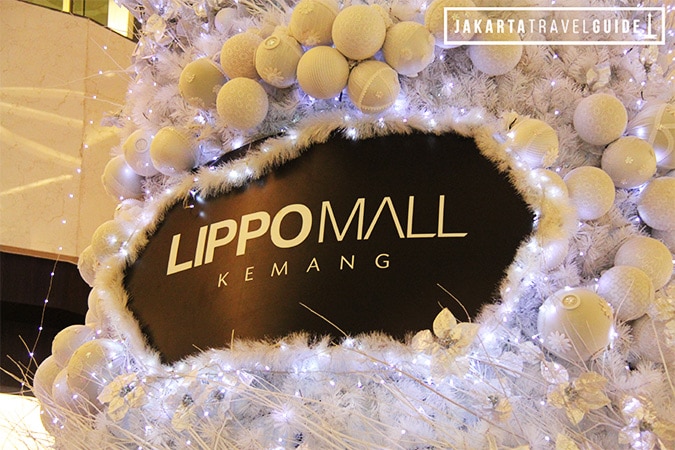 Lippo Mall Kemang is the only major mall in Kemang.  Therefore, it is very popular with locals and expats living in this area of Jakarta.  The shopping mall is only one component of a multistory residential and commercial complex that also consists of residential towers.
Although Lippo Mall Kemang is not one of the largest malls in Jakarta it does have an adequate selection of stores to choose from ranging from mid-range to luxury branded products.
The top floor of Lippo Mall Kemang has a modern cinema with some good restaurants nearby. The cinema shows both international blockbusters and locally-made films.  International films are shown in English with Bahasa Indonesia subtitles for the convenience of local viewers. You can't bring food from the nearby restaurants into the cinema, but you can plan for dinner and then simply walk right over to watch your movie.
Arguably the best feature of visiting Lippo Mall Kemang is dining or having a few drinks at Avenue of the Stars.
Avenue of the Stars is an elegantly designed outdoor eating area that has restaurants, bars and cafes overlooking an entertainment stage. This is a unique setting in Jakarta, with most other malls lacking similar social environments.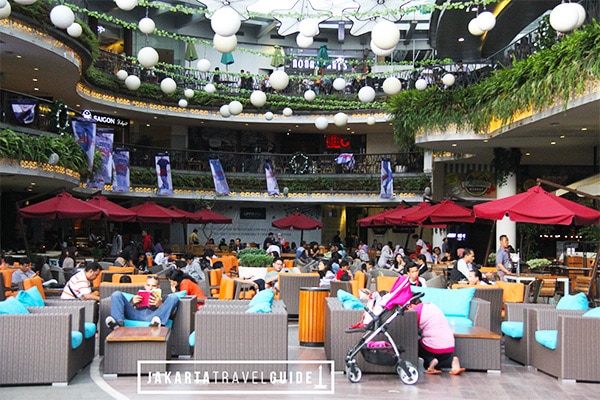 This is a great area for people watching. If you are shopping at Lippo Mall in Kemang it's super easy to simply walk outside to the Avenue of the Stars for a break.
It is common for the mall to organize bands and other forms of entertainment during the evening hours for patrons to enjoy while they dine or grab some drinks.  
There are many good international restaurants located around Avenue of the Stars at Lippo Mall Kemang. The ground level of the Avenue of the Stars is typically the busiest, but there are also higher levels of the mall as well that are lined with restaurants. You can purchase alcohol throughout the day and at night in this section of the mall, so it's great for socializing with larger groups.
If you are shopping at Lippo Mall Kemang don't forget to check out the underground floor of the mall. Some of the anchor stores are below ground. It is easy for you to forget about them!
---
Lippo Mall Kemang Essential Visitor Information
Opening Times:
Everyday : 10:00 am – 10:00 pm
Address: Jalan Pangeran Antasari 36, Jakarta Selatan, DKI Jakarta, Indonesia
---
Shopping at Lippo Mall Kemang in Jakarta: Summary
If you are planning on shopping at Lippo Mall in Kemang, then don't expect it to be a massive megamall. It isn't nearly as big as Mal Kelapa Gading, Grand Indonesia or Senayan City.
It has a nice selection of restaurants and stores to choose from. This area of Jakarta is quite trendy, so expect shoppers to be well dressed and stylish. Take advantage of the excellent selection of restaurants near Lippo Mall in Kemang and consider combining dinner with a movie or some drinks at Avenue of the Stars.  
---
What is located around Lippo Mall Kemang in Jakarta?
Lippo Mall Kemang is conveniently located in one of the trendiest areas in all of Jakarta.  Kemang has tons of great restaurants and very eloquently designed bars. You will also find some high-end art galleries and spas in this area of the city. More and more hotels are being developed in Kemang, but they could still use some more in this area of Jakarta.
Jalan Kemang Raya is the main road in Kemang where restaurants, bars and cafes line both sides of the street.
Lippo Mall Kemang is only about 500 meters west of Jalan Kemang Raya which makes it very convenient to visit if you are dining in Kemang.
A practical idea is to eat dinner somewhere along Jalan Kemang Raya and then visit Lippo Mall Kemang to watch a movie afterwards.
Alternatively, you could eat dinner and watch some live entertainment at Avenue of the Stars and then head to the trendy cocktail bars along Jalan Kemang Raya afterward for some drinks and more live-action.
More Shopping Options
If you are looking for some more shopping malls near Kemang there are also many options within a few kilometers away.
The Blok M area of Jakarta is very well known for affordable textiles and locally-made products. There are three or four shopping centers in Blok M that are located within walking distance of each other and they include:
Of these, you might find Pasaraya Blok M worth checking out because it has a floor that has tons of Indonesian-made products including Indonesian puppets and masks.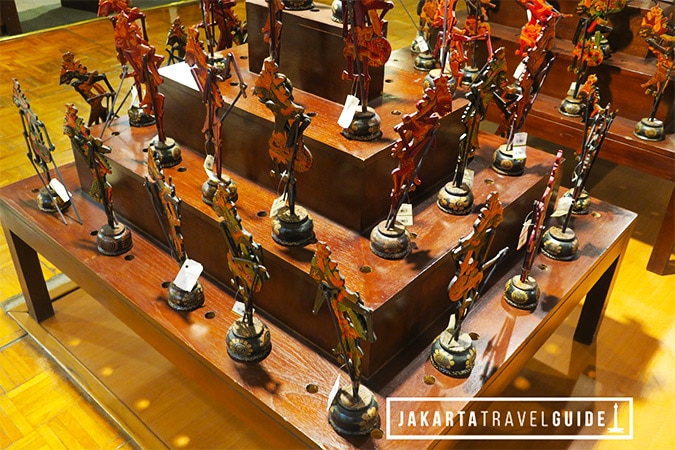 Another good market not too far from Lippo Mall Kemang is Pasar Mayestik.
Pasar Mayestik (Mayestik Market) mainly has local fabric stores – primarily selling Indonesian-made batik.  The market building has various floors and the stores outside the market building are also very affordable if you are looking for fabrics. Bargaining for prices at Pasar Mayestik is also quite common.
Some other popular shopping options near Lippo Mall Kemang include:
Dharmawangsa Square
Pejaten Village
Although these malls might only be within a few kilometers of Lippo Mall Kemang always be sure to check the traffic on your phone before visiting them.  Jakarta's jams should always be considered before going somewhere.
Staying in Kemang can also be an excellent idea if your main goals in the city are to enjoy the social scene, dine out and conduct business.
Accommodation Options
Preferably try to stay as close as possible to Jalan Kemang Raya if you plan to stay in Kemang.  This will minimize the amount of time you spend in Jakarta's traffic to reach things. Some of the most positively reviewed places to stay in Kemang include:
These properties receive positive guest reviews, but they aren't 5-star options according to international standards. Consider staying at The Dharmawangsa if you want to be fairly close to Kemang while receiving top-notch service standards and amenities.
Lippo Mall Kemang is a nice convenient shopping center in one of the trendiest areas of all of Jakarta. Make the most of it!
---
10 Closest Hotels to Lippo Mall Kemang in Jakarta
***Organized according to Star Rating