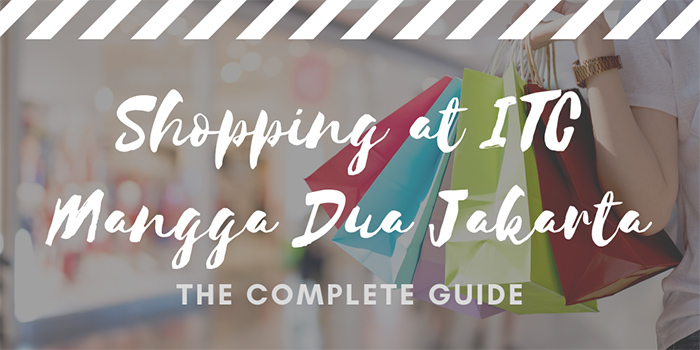 Your complete guide to ITC Mangga Dua. Everything you need to know about this mall in Jakarta.
ITC Mangga Dua is a popular mall that is situated in northern Jakarta. To help you place its location into context, it is about 6 km north of the Monas and 2 km east of Taman Fatahillah in Kota Tua.
This shopping mall is known for affordable prices.
Like many of the other ITC malls in Jakarta, ITC Mangga Dua has a variety of stores selling everything from computers, cell phones, sunglasses to textiles such as batik. There are various watch stores and many optical centers selling glasses and frames.
The mall consists of many small shops being operated by local vendors. Due to its rectangular structure, ITC Mangga Dua is developed around a large central atrium on the ground floor of the mall. The atrium is commonly occupied by locals selling textiles in small cubicles. This is typically a very busy area, especially on weekends when people are free to do some shopping.
With the exception of the atrium, the ceilings are low at ITC Mangga Dua. This maximizes shop space throughout the mall.
The escalators are located along the eastern end of the atrium. The food court is located along the 7th floor of ITC Mangga Dua.
Since this mall primarily gets local shopper the food choices here are primarily Indonesian. Do not expect many international food options.
Prices
The prices at ITC Mangga Dua can be very good, but don't assume that all prices are going to be great without bargaining.  Depending on where you are shopping in the mall, chances are they will be up for negotiating. Don't just blindly buy products here without checking out a few shops first to see if the price is consistent around the mall.
The last thing you want to do is buy something only to find out a few minutes later that it is fifty percent cheaper at another store.
As a general rule, if you are shopping at ITC Mangga Dua check the price of the gadget online before negotiating the price in person. This will ensure that the final price is fair to both you (the shopper) and the store owner.
At the time of writing, there is no cinema in ITC Mangga Dua. Therefore, you will have to go elsewhere to another mall such as Grand Indonesia or Plaza Indonesia to catch international blockbusters.
---
Mangga Dua Mall: Essential Visitor Information
Opening Times: Everyday from 9 am – 6 pm
GPS Coordinates: -6.135590, 106.824304
Address: Jl. Mangga Dua Raya No.43, RT.11/RW.5, Ancol, Kec. Pademangan, Kota Jkt Utara, Daerah Khusus Ibukota Jakarta 14430, Indonesia
---
What is located around ITC Mangga Dua in Jakarta?
One of the major benefits of shopping at ITC Mangga Dua Mall in Jakarta is convenient access to other malls in the direct area.
Shopping Malls
Mangga Dua, is known as a haven for budget shopping. Electronics, textiles, shoes and watches are popular here. There are around five malls within 1 km or less of ITC Mangga Dua. This makes it convenient for making a shopping itinerary of north Jakarta.
Harco Mangga Dua
Pasar Pagi Mangga Dua
Physically attached, and directly west of ITC Mangga Dua is Pasar Pagi Mangga Dua. You can easily walk between these two shopping centers in under 20 seconds.
The next closest mall to ITC Mangga Dua is Mangga Dua Mall. They are physically connected to each other through a pedestrian bridge which runs over Jalan Mangga Dua Raya.
Mangga Dua Mall has a lot of good electronics shops.
Best Accommodation Choices near the Mall
Most of the hotels near ITC Mangga Dua are in the 2-4 star range. It makes sense that the properties available aren't overly luxurious because the malls are tailored towards budget shopping.
Arguably the best property near ITC Mangga Dua is Le Grandeur. This is located across the road from the mall. It is an older property but it has a good breakfast and well-priced rooms.
Some of the additional properties to the shopping center include:
Attractions
One of the most popular areas for sightseeing near ITC Mangga Dua is Kota Tua.
This is the historical Dutch colonial area of the city. Most visitors to Jakarta don't leave the city without checking out the museums and markets in Kota Tua.
Most of the important sights in Kota Tua are centered around Taman Fatahillah (Fatahillah Square). This is a high energy square that is surrounded by the following museums:
You can walk to any of these within 5 minutes from Taman Fatahillah. Also consider getting nice panoramic views of the square from Cafe Batavia. This is very popular amongst both foreign and Indonesian visitors to Jakarta.
At the moment there is no MRT Station close to ITC Mangga Dua. Currently, the northernmost station along the line is Bundaran HI MRT Station which is still south of the Monas.
The two closest commuter stations are Jakarta Kota Station and Kampung Bandan Station. Of these two stations Jakarta Kota is the best option for accessing Kota Tua. You can drive from either one of these to ITC Mangga Dua in under 5 minutes in moderate traffic.
---
10 Closest Hotels to ITC Mangga Dua in Jakarta
***Organized according to Star Rating
---
Summary: Shopping at ITC Mangga Dua Jakarta
ITC Mangga Dua is just one of many "ITC" malls in Jakarta. These are a line of multistory shopping centers that specialize in affordable goods and services.
If you are looking for luxury this is not the place, however. Most of the shops in this mall are owned by locals, not international brands. Therefore, when you shop at ITC Mangga Dua you are going to directly support local Indonesians.
When you are creating your itinerary for Jakarta try to bundle Mangga Dua Mall, ITC Mangga Dua, and Pasar Pagi Mangga Dua into the same day. This should save you time and help to avoid unnecessary trips in Jakarta's notorious traffic.