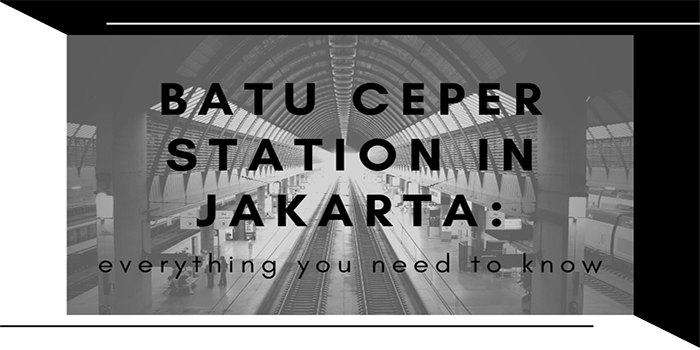 The complete guide to Batu Ceper Station. Find all the info you need right here.
Batu Ceper Station, also referred to as Stasiun Batu Ceper in Bahasa Indonesia is a commuter station and airport rail station which is located about 21 km west of the main attractions in central Jakarta such as the Monas and its surrounding museums and galleries.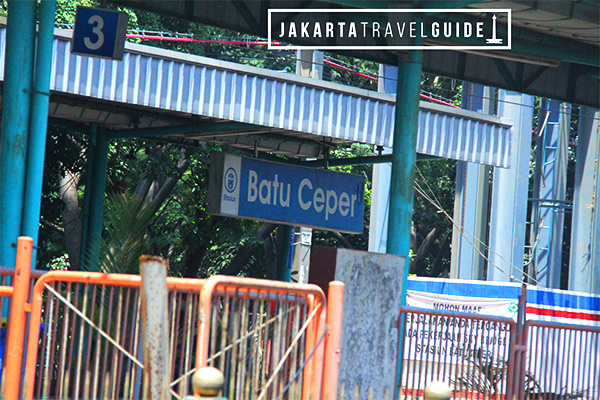 Stasiun Batu Ceper is actually not located in Jakarta. It first was only a commuter station, but since the airport rail train from Soekarno-Hatta to Central Jakarta opened up it is part of two train lines.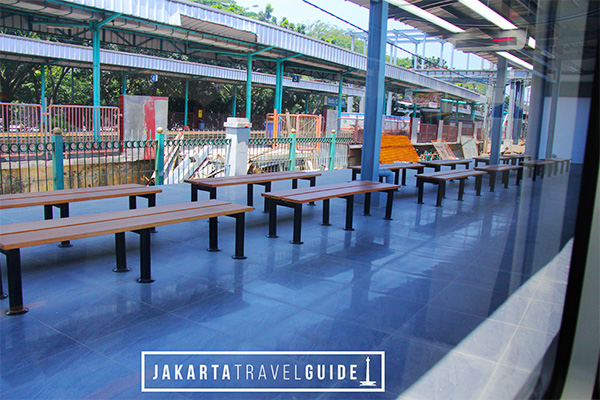 ---
Essential Station Information
GPS Address: -6.172168, 106.665183
Station Address: Jalan Kyai Haji Agus Salim, Poris Plawad, Cipondoh, Poris Plawad, Cipondoh, Kota Tangerang, Banten 15141, Indonesia
Commuter Line(s): Brown Line
Airport Train Line: Closest Station from Airport
Train Platforms: 4 side platforms
Number of Tracks: 4
---
Commuter Line Information for Batu Ceper Station
Batu Ceper is a stop on the Brown Line that connects Duri Station (to the east) with Tangerang (to the west). It is much closer to Tangerang Station opposed to Duri Station.
Batu Ceper Station is quite far west of the city center. Consequently, it is not located close to any other public transit rail lines.
Therefore, if you want to travel further west, you can travel two more stations west on the Brown Line all the way to Tangerang Station. From there, you can consider going further west with road transportation options.
If you want to travel east or south on the train, then you will have to head east on the Brown Line to Duri Station. At Duri you can transfer trains to the Yellow Line.
Additional Yellow Line Information
The Yellow Line services trains all the way south of Jakarta, but also to the north and east of Jakarta.
The Yellow Line is particularly popular with commuters heading to southern Jakarta and beyond.
If you want to reach destinations such as Depok, Bogor or Nambo, you can do so while traveling south on the Yellow Line from Duri. You can travel north on the Yellow Line to access Ancol, before looping south to popular market areas such as Pasar Senen and Jatinegara.
These market areas are very popular with local shoppers because they offer a wide selection of goods at cheap prices. It also doesn't hurt that they are within walking distance of their respective stations.
---
Jakarta Airport Train Information for Stasiun Batu Ceper
Batu Ceper is not only a commuter station. It also is a stop on the Jakarta Airport Train Line that connects the airport to both Central Jakarta to Bekasi. Jakarta Airport Railink consists of the following stations with relevant connection information:
As you can see above, Batu Ceper Station is the closest station to the airport.
---
Closest Commuter Stations to Batu Ceper
If you are at Batu Ceper Station, then it is also useful to know which stations are closeby.
To the west, the closest station to Batu Ceper is Tanah Tinggi Station. The distance between these two stations is about 2 km.
If you travel east from Batu Ceper the next closest station you will come across is Poris Station.
The distance between these two stations is slightly closer (1.8 km).
---
What is located around Stasiun Batu Ceper?
As you already know, Stasiun Batu Ceper is over 20 km to the west of the Monas.
This makes it quite far from popular attractions such as the museums in central Jakarta, Ancol, and also Kota Tua.
It is, however, only two stations away from the terminal station, Tangerang. Therefore, consider traveling further west via ground transport.
The area around the station is not particularly well known for sights and activities.
You will find very few domestic or international tourists in this part of Banten.
You might enjoy the local culture though.  About 750 meters south of Batu Ceper Station there is a local traditional market called Pasar Royal. Expect local foods and some merchandise. This is a large square market with small shops around its exterior.
Staying in this area also isn't particularly popular with tourists visiting Jakarta.
It is simply too far west for visitors wanting to stay downtown.  
Accommodation Options
If you are doing business near this station or simply looking for a room nearby, there is one quality hotel closeby Allium Tangerang Hotel.
This is a good option and it's only 250 meters away from Batu Ceper Station. It gets pretty good reviews from its guests.
Alternatively, consider staying farther east and closer to central Jakarta where you will have a surplus of excellent hotels to choose from.
Some popular choices for tourists include the Mandarin Oriental, Hotel Kempinski Jakarta, The Grand Hyatt, and The Hermitage. All of these generally receive review scores about 8.5 out of 10 on major accommodation sites.
---
Driving from Batu Ceper Station to the Airports in Jakarta
Getting from Stasiun Batu Ceper to Soekarno-Hatta Airport (International Airport in Jakarta)
The driving distance from Batu Ceper Station to Soekarno-Hatta International Airport is around 14 kilometers and this should take you around 40 minutes to 55 minutes depending on traffic. It is a better idea to take the airport rail train if you want to bypass traffic along the way.
Getting from Stasiun Batu Ceper to Halim Perdanakusuma
The driving distance from Batu Ceper Station to Halim Perdanakusuma International Airport is around 41 kilometers and this should take you around 1 hour to 1 hour and 15 minutes depending on traffic.
---
10 Closest Hotels to Batu Ceper  Station in Jakarta
***Organized according to Star Rating
***Mobile users swipe right